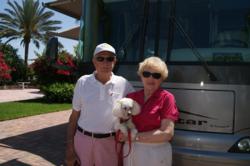 the reason we bought three motorhomes from North Trail is because of the service department...
Ft. Myers, FL (PRWEB) April 20, 2012
While hundreds of American businesses are outsourcing their customer service responsibilities to cheaper, overseas foreign entities that have little to no actual accountability for the way they treat American consumers or handle service related issues, North Trail RV Center in Ft. Myers, FL, is judged not only on their quality of service but other factors like appearance, professionalism, timeliness, explanation of services provided, convenience of scheduling and more.
The Mahlon Miller Service Excellence Award is named after Mahlon Miller, founder of Newmar Corp., the Nappanee, Indiana-based, Amish manufacturer of luxury Class-A motorhomes and 5th wheel rvs. According to Matt Utley, vice president of service operations for Newmar, the award in Mr. Miller's name recognizes the dealerships that most embody the spirit of customer service. "Mr. Miller and the entire Miller family have a passion for customers," Utley said. "Through his guidance and leadership, customer service will be forever engrained into the fabric of Newmar."
North Trail RV Center has been the world's largest Newmar dealer for the last 8 years and is proud to have earned this most prestigious, service award for the last 2 consecutive years. "A tremendous amount of hard work and dedication all year long goes into this achievement from every department here," says Rob Sanders, service consultant supervisor for 10 years. " I am very proud of everyone here, we deserve it."
Servicing upward of 35 coaches daily, and continually being recognized as Newmar's largest, transient service dealer proves that not only guests of North Trail RV Center but also guests who purchased their motorhomes elsewhere, prefer the service at North Trail. With many factory trained, certified Master Technicians with over 20 years experience each at North Trail RV Center, over 2 million dollars of parts and accessories in inventory and special advantages awarded to them that specifically benefit the guests, such as Newmar's highest level of authorization that helps expedite service without the need to wait for approvals, parts overnighted from Newmar and more, the Mahlon Miller award comes with its rewards as well as prestige.
On their third Newmar coach purchased from North Trail RV Center over the last 17 years, Lee and Joyce Madrazo, of Greenville, South Carolina know quality and good service when they find it. Their first rv was a 27 foot, Newmar Kountry Aire travel trailer back in the '60's, and from there they haven't looked back. " I think the reason we have bought 3 motorhomes from North Trail was because of the service department.", says Joyce. "They are wonderful people and their service writers are really upfront and they are top drawer...top notch!", says Lee. "Their philosophy about the way they treat people, like a guest in their home, goes a long way when you want to buy a motorhome or deal with people."
"With the expansion of the dealership in 2013, we will be able to quadruple the amount of coaches that we can service...with 44 service bays under roof, along with our state of the art collision center, North Trail RV Center is dedicated to providing excellent customer service for our guests and we are always striving to improve and grow,", says Derek Marks, service manager of North Trail. "Working with Newmar has been one of the best business decisions for North Trail. They not only manufacture the highest quality, luxury motorhomes on the market today but value customer service and satisfaction above all else, just like we do here at North Trail."
For more information, please visit http://www.northtrailrv.com or call 1-888-819-9973.
About North Trail RV Center
With coast to coast locations, North Trail RV Center is South Florida's largest RV dealer. With over 50 million dollars of inventory on hand, North Trail RV Center features the best rv manufacturers such as Newmar, Tiffin, Fleetwood, Keystone RV, American Coach, Pleasure Way, Winnebago, Itasca and Jayco. For over 25 years, this locally-owned, family business has grown to employ over 170 people in 3 locations throughout South Florida. With major facility expansion plans for 2013 in Ft. Myers, North Trail RV Center will continue to be South Florida's top, full-service rv dealer for many years to come. 'Like Us' on Facebook at http://www.facebook.com/northtrailrv
Media Contact:
Tim Lowry, Marketing Director
1-888-819-9973
http://www.northtrailrv.com
###