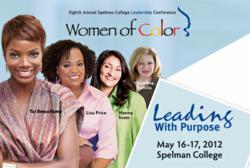 "Leading with purpose demands strength and courage. It requires women to be prepared for the challenges they will encounter at all points in life." -- Dr. Jane E. Smith, conference convener
Atlanta, GA (PRWEB) April 18, 2012
Multimillion dollar businesswoman and author, Lisa Price, will share personal insights on the theme "Leading with Purpose" at the Eighth Annual Spelman College Leadership and Women of Color Conference, May 16 and 17, in Atlanta.
Price, founder of the natural beauty care line Carol's Daughter, will be joined by other renowned and diverse thought leaders who will define what it means to lead with purpose. Through self-exploration, discussions, and interactive workshops, attendees will be able to unlock their full potential to lead in a manner that is practical, sustainable and rewarding. They will also leave with a blue print and the tools necessary to make intentional choices about why, when, how and where they lead despite competing personal and professional priorities.
"Leading with purpose demands strength and courage," said Jane E. Smith, Ed.D., executive director, Spelman College Center for Leadership and Civic Engagement (LEADS). "It requires women to be prepared for the challenges they will encounter at all points in life. Then relying on firm principles and beliefs, they will find innovative solutions that provide valuable and lasting benefits in their homes, workplaces and communities."
To highlight the role innovation plays in purposeful leadership, journalist, syndicated columnist and CNN analyst Roland S. Martin will moderate a panel discussion with leading industry influencers on how social media can help shape your leadership brand. A 2011 study conducted by Ogilvy and ChatThreads found: "Social media by itself is particularly effective at rapidly impacting brand perception—exposure to social media generated the largest impact on brand perception over a short (one week) period of time."
Organized by LEADS, this intergenerational conference for women, assembles leaders from the private and corporate sectors to identify and dialogue with attendees on best practices to enhance essential leadership skills. Attendees will have the opportunity to attend sessions and workshops lead by prominent business executives including Kimberly B. Davis, president, JPMorgan Chase Foundation and Telisa Yancy, director, Advertising, Brand and Media, American Family Insurance.
The Legacy of Leadership Awards Dinner, a signature event of the conference, will recognize outstanding women who have lead with the purpose of breaking down barriers. Among this year's honorees, Evelyn Lowery, founder, SCLC/W.O.M.E.N., Inc. and Shinae Chun, former director, Women's Bureau, U.S. Department of Labor.
The two-day conference will be held at the Georgia International Convention Center and the Spelman College campus. For registration, schedule and additional details, please visit http://www.spelmanwomenofcolorconf.com. The Conference also welcomes discussions and thoughts on its theme on FaceBook and Twitter.
About Spelman College
Founded in 1881, Spelman College is a prestigious, highly selective, liberal arts college that prepares women to change the world. Located in Atlanta, Ga., this historically black college boasts an 83 percent graduation rate, and outstanding alumnae such as Children's Defense Fund Founder Marian Wright Edelman; former U.S. Foreign Service Director General Ruth Davis; authors Tina McElroy Ansa and Pearl Cleage; and actress LaTanya Richardson. More than 85 percent of the full-time faculty members have Ph.D.s or other terminal degrees, and the average faculty to student ratio is 11:1. Approximately 2,100 students attend Spelman. Spelman College has been ranked as the number one HBCU for five consecutive years by U.S. News & World Report; number 62 among Best Liberal Arts Colleges by U.S. News & World Report; and 12th for Best Career Services by The Princeton Review. For more information, visit: http://www.spelman.edu.