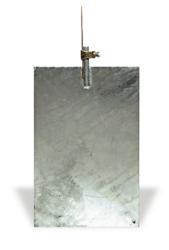 CHARLOTTE, NC (PRWEB) April 18, 2012
In some soil conditions, driving a ground rod may not be practical. Steel grounding plates, now available from Galvan Electrical Products, offer a safe and reliable alternative.
Often used by utilities, Galvan steel ground plate electrodes buried below grade provide an excellent connection to earth. Their large surface area (10"x16") efficiently and safely dissipates current into the ground. Made of 1/4" steel and hot dip galvanized for corrosion resistance, they give up to 40 years of worry-free grounding protection in most soils. They are also available as bare steel.
Other Galvan electrical products include galvanized, copper-clad, stainless steel and solid copper ground rods plus a large assortment of connectors and lugs, split bolts, water pipe clamps, connectors for utilities, transformer lug kits and accessories.
The company's catalog features a comprehensive series-by-series listing of Galvan products, including part numbers, dimensional drawings, technical data and application notes. The catalog also features an illustrated cross-reference to competitive products.
Galvan Industries' electrical grounding products are used in a wide variety of residential, commercial and industrial applications. These include construction, cable TV, lightning protection, power generation and transmission, telecommunications and OEM markets. Galvan products are stocked in strategic sites around the country to assure fast deliveries.
To learn more, or for ordering, contact Galvan Industries at 1-800-277-5678, Fax (704) 455-5215; e-mail: sales(at)galvanelectrical(dot)com.
Galvan Electrical Products will be on display at the IEEE PES T&D Exposition in Orlando May 7 through 10, booth # 1267.