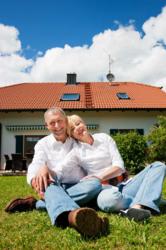 Up to 40 percent of nursing home admissions are due to falls or fear of falling.
Neenah, Wis. (PRWEB) April 18, 2012
Aging in place, or remaining safe and comfortable at home at any age, can require modifications, from simple products that make life easier to home improvements necessary to remaining independent, says Lynn Wilson, Co-Founder of The CareGiver Partnership.
"Every year, one in three adults over age 65 falls, and up to 40 percent of nursing home admissions are due to falls or fear of falling," "As a company dedicated to helping seniors live safely in their homes, fall prevention is an ongoing initiative for us."
A goal of aging in place is to keep a home low-maintenance. Maintenance is often difficult for seniors because of reduced physical flexibility, health problems or lack of funds. Wilson says the following are characteristics of a safe, low-maintenance exterior and yard:

Steps, walkways, driveways and railings in good repair.
Adequate lighting at all entrances and walkways.
Textured surfaces and reflective, contrasting paint on step edges.
Exterior lighting that casts light downward vs. horizontally and is easy to access for bulb changes.
House numbers that emergency responders can see from the street.
Low-maintenance landscaping, such as native plants that don't require extra watering.
Shrubs that remain compact as they grow, to avoid shadows that cause tripping hazards and to allow easy access to utilities.
The CareGiver Partnership has created "It All Starts With a Fall — Your Guide to Help Prevent Falls." It helps readers identify and correct fall hazards in their homes and yards, teaches about personal safety tools that can make living at home a success, and offers instructions on what to do if they fall or witness a fall. Get a free copy, along with coupons for fall prevention products, from The CareGiver Partnership.
For further reading:
Recognizing Low Vision Awareness Month with Resources for Aging in Place
Aging in Place: Exterior Home Ideas to Make Summertime More Enjoyable
The CareGiver Partnership is a national direct-to-consumer retailer of home healthcare products for incontinence, diabetes, nutrition support and more. In its sixth year of providing products and services that help caregivers and loved ones maintain personal dignity, the company also offers an online library of more than 1,200 family caregiver resources and personal service by experts in caregiving. Call 1-800-985-1353 or visit online at http://www.caregiverpartnership.com.