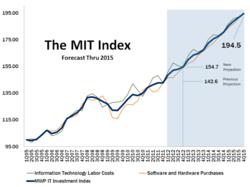 We are thrilled to see that IT spending continues to be strong. This is just the tip of the iceberg as enterprises begin to take advantage of the benefits and efficiencies of cloud computing
Chicago (PRWEB) April 18, 2012
Today, Maven Wave Partners released the results of its IT Spending & Investment Study through 4Q 2011, showing 2011 year-end IT spending outpacing the original forecast through 2015. In addition, strong growth in IT workforce and hardware spending expected to continue throughout 2012 and beyond.
The Maven Wave Partners 2011 study explored the direction and focus of IT spending and its potential effect on corporate earnings. The study revealed that the IT spending squeeze brought on by the financial crisis of 2008 ended in 4Q 2010. This study resulted in the establishment of two new indices designed to assist clients, market participants, and analysts in tracking the pace and value of IT investment by enterprise:

The Maven Wave Partners IT Investment Index (the "MIT Index"), a bellwether measure of aggregate spending on information technology.
The Maven Wave Partners IT Value Index (the "MIV Index), tracking corporate earnings in relationship to spending on the Information Technology workforce
Overall, there was significant growth in IT spending during 2011 as the MIT Index reached a its year end target 4Q 2011 a full year ahead of projection.
As we reported last December, the MIT Index was up as anticipated but outpaced projections by just over 6%. This increased pace was driven largely by stronger than expected hardware sales and more rapid increases in hiring than anticipated. The model suggested that 4Q 2011 would be a somewhat weaker quarter as companies continued to digest the substantial increase in IT investment made earlier in 2011. The actual results are as follows:
Maven Wave projected that the MIT would step back roughly 3-4% in 4Q instead the MIT remained essentially flat, outpacing our forecast by roughly 3.8% and meeting the forecast for end of 2012 exactly one full year early.
Continued strength in the MIT came from two of the three main drivers (hardware and software) increasing over 3Q, with hardware sales outperforming Maven Wave projections.
The MIV finished the fourth quarter of 2011 at $22.09 (meaning that a dollar spent on IT workforce resulted in corporate earnings of $22.09).
The 4Q MIV was essentially in line with the forecast of $22.66. Breaking down the components of the MIV, actual corporate earnings for the quarter were on track with our forecast and spending on labor was slightly higher than projected.
First quarter 2012 results will be issued in the beginning of the second quarter.
For more information on the Maven Wave Partners IT Spending & Investment Study, please visit LINK or contact Matt Batt at matt.batt@mavenwave.com
About Maven Wave Partners
Maven Wave Partners provides management consulting, technology delivery and outsourcing services to companies that seek exceptional business advancement through transformation. Companies seeking to accelerate performance improvement rely on Maven Wave Partners for strategy-led, results-focused management, technology, and cloud solutions.
The management team of Maven Wave Partners has successfully delivered for a wide variety of clients and industries.
For more information, visit http://www.mavenwave.com.