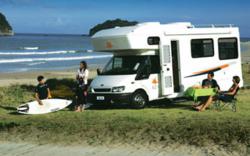 We've seen sustained growth in sales and rentals over the last few years - Jonathon Bell, Tyne Valley Motorhomes
(PRWEB UK) 19 April 2012
Statistics show that there has been a substantial fall in the number of British tourists travelling abroad over the last ten years.
The popularity of the 'staycation' (holidaying at home rather than abroad), has risen as a result, notably in Scotland where 15.7 million visits by tourists were recorded during 2011. This was an increase of 9% on previous years, a result of more people holidaying at home.
Overseas tourism, having reached it's peak in 2000 when the economy was perceptibly strong, has seen a steady decline in numbers falling by 10.4 million in 2009 alone. External factors such as the economic crisis, swine flu, extensive strikes and weak currency rates meant that going abroad became a less viable option for many Britons who made the decision to holiday at home instead.
But this may provide a glimmer of hope for the UK tourism industry, which has reported substantial increases in numbers over the last few years. Jonathon Bell, the CEO of Tyne Valley Motorhomes commented; "We've seen sustained growth in sales and rentals over the last few years. The amount of people who are even coming to us for queries is considerably larger than we have even experienced before – we've even had to expand our range, bringing in a new fleet Bessacarr Motorhomes to meet demand"
Sales of motorhomes have been consistently strong too. Reports from The Caravan Club suggest that more and more people are taking to camping, and their membership has reached an all time high – a good indication that where other areas of tourism are failing, caravanning is getting progressively more popular.
Many people involved in the industry are putting this down in part to a development in the standards in facilities offered on campsites throughout the country. For years, there were vast inconsistencies in quality when compared to European counterparts, which detracted from their popularity with British tourists. Local councils however have now made efforts to rectify the situation and change the image of British campsites to encourage people to holiday in their communities, bringing in much needed revenue to their local economies.
Although traditionally associated with touring retired couples there has also been a noticeable rise in the number of motorhomes being sold to couples with young families, Bell said, "We've been approached by a lot of people interested in purchasing some of our larger models like the Auto Trail Motorhomes recently. Having bigger models mean that larger families can holiday together or stay away for longer whilst still maintaining the necessary space and comfort"
Michael McKeegan, an avid motorhome enthusiast said "I used to go to Spain every year, but when the pound started to slump we decided to invest in a motorhome. I can honestly say it is the best decision I've ever made. Now we can take off whenever we like, there's no fuss or planning – it's the ultimate freedom and I would recommend it to anyone"