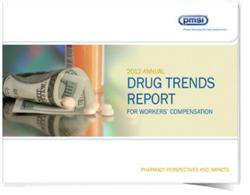 Tampa, FL (PRWEB) April 17, 2012
PMSI, the nation's largest provider of specialty products and services for the workers' compensation market, announced the release of its 2012 Annual Drug Trends Report. Now in its fifth edition, the 2012 Annual Drug Trends Report discusses the latest industry insights and trends, including a 1.7% decrease in narcotics utilization and a 3.2% increase in overall pharmacy spend that was far less than the increase in Average Wholesale Price (AWP) in 2011.
"This report provides valuable insight into the factors influencing pharmacy spend, the changes in utilization across drug classes and industry challenges," stated Jay Krueger, Chief Strategy and Client Services Officer for PMSI. "In addition to analysis derived from over 5.1 million pharmacy transactions, we look at several regulatory and legislative issues and discuss pharmacy trends that are impacting both payors and the broader workers' compensation marketplace."
The Report looks at the top 10 factors influencing pharmacy spend. Notable findings include:
■ Average spend per injured worker increased only 3.2%—far less than the 6.3% increase in Average Wholesale Price
■ Average mail order cost per day of supply was about 21% less than the average retail cost per day of supply
■ The use of narcotic analgesics decreased by 1.7%, as measured by morphine equivalent dose (MED) per injured worker per day
■ Long-acting narcotics saw a utilization decrease of 68 mg to 64 mg MED per day
■ Percent of injured workers using narcotic analgesics in the first year after injury dropped from 59% in 2010 to 57% in 2011
"We are particularly pleased that we were able to achieve this overall decline in narcotics given the industry's well-documented challenge in stemming narcotic utilization," said Krueger. "The decline in narcotics usage across our book of business demonstrates the effectiveness of PMSI's MedAssess™ clinical programs that address issues with appropriate narcotic selection, dosing and duration of therapy."
The Report includes over 70 pages of information, charts and graphs that detail the results of this year's analysis. To view the Report online, request a printed copy, and view the video of Dr. Maria Sciame, Executive Director of Clinical Services, discuss the trends in this year's Report, visit http://www.pmsionline.com/Drug-Trends
About PMSI:
Founded in 1976, PMSI is a leader in developing solutions to control the growth of medical costs in workers' compensation. As one of the nation's largest and most experienced companies focused on workers' compensation and liability markets, we deliver proven solutions for cost containment across the claims lifecycle. PMSI's solutions for Pharmacy, Medical Services and Equipment, and Settlement Solutions deliver quantifiable results and improve the quality of care for injured workers. We provide our customers with the innovation, focus, expertise, analytics and technology needed to successfully deliver workers' compensation benefits.
For more information, visit http://www.pmsionline.com or call 877.ASK.PMSI.
# # #