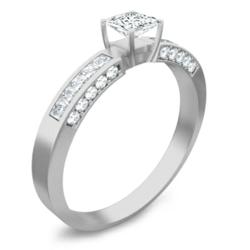 Cockeysville, MD (PRWEB) April 18, 2012
Asscher cut diamonds are remarkable diamond shape with beautiful facets. Asscher diamond is one of the most recently created diamonds to be used commercially. First cut in the early 1900's by the Asscher Family it fit in well with the popular culture of the 1920's to 1940's which was that of art deco designs, antique designs and Halo design settings. Asscher cut Engagement Rings were very popular during this time. With its radiant brilliance, stunningly creative design and unique art deco appeal, it's no wonder this cut of diamond has sustained in the public eye, despite the downfall of art deco appreciation. A variety of celebrities sporting their diamond engagement rings made with Asscher cut diamonds has now brought the fancy cut diamond to the forefront. JewelOcean is now proud to announce that it has introduced a whole new lineup of Asscher cut diamond engagement rings starting April 16th, 2012
Jewelocean.com is particularly drawn to the asscher cut of diamond for their diamond engagement rings. The asscher cut diamond (or modified cushion cut diamond as it is sometimes called) is known for its square shape and perfect symmetry similar to the princess diamond, but the asscher cut has a unique step cut design that gives the diamond the impression that is a hall of mirrors, allowing one to get lost in the majestic table face.
Since the asscher cut diamond is square in shape, it can fit into all of jewelocean.com's rings which are designed for the princess cut diamond. These Asscher cut diamond engagement rings are part of jewelocean.com's finest collections, and more ring designs are being added all the time. Although jewelocean.com offers most of its rings in white gold or yellow gold in varying carats, the asscher cut diamond rings are usually set in white gold to give it a more cosmopolitan feel. Jewelocean.com encourages its customers to take a look at the asscher diamond and give it a chance, they likely won't regret giving this superlative ring to their loved one.
JewelOcean.com is a leading online jewelry retailer, specializing in retailing diamond engagement rings at affordable and cheap prices. All purchases on the website come with guarantee certificate, with refund policy and lifetime warranty options. Customers interested in looking at the asscher cut engagement rings should visit JewelOcean.com.