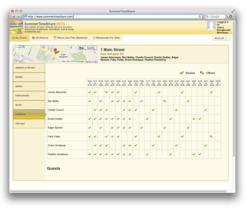 New York, NY (PRWEB) April 19, 2012
SummerTimeShare.com — an innovative social app to visualize and book group summer housing shares, sell available weekends, and SMS with housemates — launched publicly today.
The core of SummerTimeShare leverages the social graph allowing users to create listings of available spots visible only to Facebook friends. The app also can be used to send group SMS texts among share participants.
Complicated schedules are abundant in niche vacation communities like Fire Island and the Jersey Shore, and SummerTimeShare allows users to organize a room-swapping setup between housemates who will be renting on erratically scheduled weeks.
Users can flag a rented week as one they won't be able to make and offer the time back to the share for another participant to swap with them. The app optionally allows shares with an open guest policy to create a listing visible to only their Facebook friends. Users can even hide that listing from specific people.
An interactive calendar tailored for each community shows when a user's friends in other shares will be out on the island or at the shore too.
"The best summers in New York are spent outside of the city." said Jason Fleetwood-Boldt, the app's creator. "Organizing those shares is complicated, and the problems — which can be managed with technology — are common. SummerTimeShare charts a new part of the social graph, solving those common scheduling and communication problems for everyone."
SummerTimeShare is free to use and available for shares in the Hamptons, Fire Island, and the Jersey Shore.