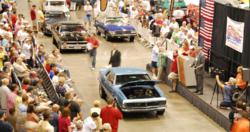 Ocean City, Maryland (PRWEB) April 23, 2012
The Annual Cruisin' Weekend Collector Car Auction in Ocean City Maryland will host the Special Olympics of MD Fundraiser Auction. Car enthusiasts and collectors from the Mid-Atlantic Region annually attend this event to compete for these highly desirable collector vehicles, offered by Express Auctioneers. The event will take place on May 17th to 20th, at the Ocean City Convention Center over 30,000 car lovers pass through the gates.
Express Auctioneers Annual Cruisin' Weekend Collector Car Auction continues to grow in importance and is becoming a fixture in Ocean City. Larry Makowski, President of Express Auctioneers stated, "we are proud to have been selected by Special Olympics to auction off their unique collectables at this event." Car Collectors are the most generous people and I know they will enjoy bidding for Civil War items, letters from President John F. Kennedy, a knife collection and collectable firearms.
With a myriad of unique performance vehicles and classic cars scheduled to be sold the 2012 event is set to generate a lot of excitement added Bernard Holthaus, Express Auctioneers Collector Car Auction Coordinator. "The mix will attract a broad range of Collectors, with added bonus of the Special Olympics items, this is an event car enthusiast don't want to miss."
About Express Auctioneers
Headquartered in Baltimore, MD, Express Auctioneers specialize in providing auction services to major corporations, financial institutions, Real Estate Companies and Municipalities. Express began conducting Collector car Auction in Ocean City in 2007 as part of the Crusin Ocean City Car Events. For more information about Express Auctioneers, visit http://www.expressauctioneers.com or http://www.occollectors.com
Media Contacts
Larry Makowski 410-243-9999
Bernard Holthaus 443-807-8883