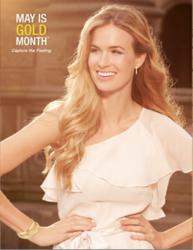 "The intrinsic value of this enduring metal, along with its long lasting beauty and radiance, makes it a smart, chic accessory to a spring wardrobe, as well as a meaningful compliment for mothers, graduates and bridal party members."
--Ramona Genao
(PRWEB) April 19, 2012
Nationwide retailers are touting the noble metal this spring, online, on-air and in stores, in celebration of May is Gold Month. Consumers can enter daily, for a chance to win their favorite gold jewelry design in the May is Gold Month online Sweepstakes gold rush, simply by visiting MayisGoldMonth.com from now until May 31st. They will also have the ability to earn up to three additional entries per day, by sharing the sweepstakes across popular social websites like Twitter and Facebook.
"Nothing feels as good as real gold," says Ramona Genao, EVP of Merchandising and Product Development at Richline Group, the sponsor of the event. "The intrinsic value of this enduring metal, along with its long lasting beauty and radiance, makes it a smart, chic accessory to a spring wardrobe, as well as a meaningful compliment for mothers, graduates and bridal party members."
The May is Gold Month promotion launches soon in participating retailers, including fine jewelry stores Ben Bridge, Kay's, Jared and Fred Meyer, department stores JC Penney, Macy's and Sears, discount stores K-Mart, Wal-Mart and Sam's Club, broadcast retailers QVC and HSN and online retailer Amazon.com.
Participating retailers will offer many new gold jewelry selections, featuring pendants, earrings and bangles designed for spring/summer fashions, as well as various special offers and promotions like flash sales, in-store events or free shipping for larger purchases.
The month of May is filled with gift-giving and self-purchase occasions that are particularly relevant for gold. Mother's Day, Graduation and bridal season call for meaningful jewelry gifts with lasting sentiment and value. Wardrobe changes, summer suntans and tax refunds also inspire fashion savvy consumers to splurge on a new pair of earrings or an anklet, bracelet, chain or pendant necklace to sport during the coming beach season.
In honor of these golden occasions this May, nationwide retailers are finding multiple ways to celebrate gold and offer shoppers new selections, special values, and the unique opportunity to win their favorite new gold jewelry design.
To view the May is Gold Month collections or learn more about the sweepstakes and special offers, visit the May is Gold Month website at MayisGoldMonth.com.
About Richline Group, Inc.
Richline Group, Inc., a wholly-owned subsidiary of Berkshire Hathaway Inc., is the USA's foremost Fine Jewelry Manufacturer and Marketer. Berkshire Hathaway, and its subsidiaries, engage in diverse business activities including property and casualty insurance, utilities and energy, finance, manufacturing, retailing and services. The Common Stock of the Company is listed on the New York Stock Exchange under the symbols BRK.A and BRK.B.