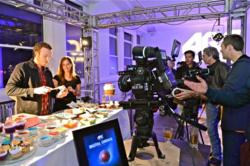 Rental rates at Adorama Rental Company's Digital Cinema Department are among the most competitive in the business.
New York, NY (PRWEB) April 18, 2012
The professional filmmaking world has an important new player: The Digital Cinema Department at Adorama Rental Company (ARC). A key provider of New York City camera rentals and New York City film equipment rentals, Manhattan-based ARC now offers a complete line of high-end digital video gear, including products from such industry mainstays as ARRI, Canon, RED, and Sony. And as with ARC's still photography equipment, the rental rates for its Digital Cinema Department's gear are not only among the most competitive in the business, but include the best customer service in town.
Adorama Rental Company's official launch of the Digital Cinema Department took place at a recent gala at Manhattan's spectacular Tribeca Skyline Studio. Top cinematographers and directors of photography were in attendance as key cameras were displayed and demonstrated in special live-action sets that included a painter, a cupcake decorator, a sushi chef, and a tattoo artist. Clusters of plasma screens throughout the space displayed the different cameras' output for scores of guests to compare as they snacked on sushi and sipped on drinks from the open bar. "Having hands-on time with the equipment was very informative," says Pablo Bonelli of Humungoid Films. "I'm now thinking of changing the camera I was planning to use for my next project." The evening's culmination was a raffle in which ARC gave away a new Canon EOS 5D Mark III HD DSLR, the new, third-generation Apple iPad, and a $1,000 gift certificate toward ARC rentals.
The invitation-only event was held to demonstrate Adorama Rental Company's commitment to the multimedia future of imagemaking. ARC has kept ahead of the curve of the industry's adoption of digital cinema, continually adding the latest, most advanced digital equipment to its rental inventory—cameras such as the ARRI Alexa; RED One MX, EPIC, and Scarlet-X; Sony F65 CineAlta and PMW-F3; and the Canon EOS C300. Lighting and grip equipment, not to mention a full range of top-of-the-line optics, have kept pace with these pro-level upgrades. Staying up-to-date is aided by ARC's affiliation with Adorama, America's most advanced photo and video retailer, making Adorama Rental Company the go-to source for New York City camera rentals and New York City film equipment rentals.
Yet even as it expands its inventory into the film and video world with the opening of its Digital Cinema Department, Adorama Rental Company remains committed to providing concierge-style customer service—including individual consultation with equipment experts and after-hours tech support. What's more, this best-in-the-business service is available to all Adorama Rental Company customers, whether they need a complete feature film outfit or an HD DSLR body. With that kind of service, plus rates that beat its top competitors and continue to amaze veteran videographers, filmmakers, and photographers, Adorama Rental Company is the true professional's choice when it comes to New York City camera rentals and New York City film equipment rentals.
For more information about Adorama Rental Company's products and services, please contact Miguel Goodbar at miguelg(at)adorama(dot)com or (212) 627-8487. For rental requests, please phone (212) 627-8487, fax (212) 929-9013, or e-mail rent(at)adorama(dot)com. Adorama Rental Company is located in central Manhattan at 42 West 18th Street, New York, NY 10011.
About Adorama: As one of the nation's largest photo retail and mail order suppliers, Adorama has served professional and amateur photographers for 33 years. It has recently expanded its service to the community through online photo education (the Adorama Learning Center and Adorama TV) and on-site workshops, programs that make it a unique industry resource. Adorama's vast product offerings now encompass home entertainment, mobile computing, and professional audio, while its services include a Professional Imaging Department, an in-house photo lab (AdoramaPix) and pro equipment rental (Adorama Rental Company). Knowledgeable staff and unbeatable pricing make Adorama a one-stop shop for all your photo and technology needs. Visit http://www.adorama.com.