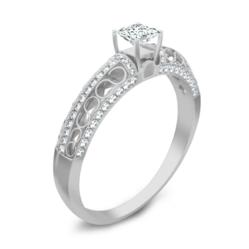 Chocolate Diamond Rings are increasing in popularity as many celebrities have their engagement rings made with champagne color diamonds.
Cockeysville, MD (PRWEB) April 19, 2012
Chocolate diamonds have been mined over a century. However it is only recently that chocolate diamond rings or champagne diamond rings as they are also known are gaining popularity. Diamond engagement rings featuring chocolate color diamonds in different shades of brown are now becoming a very popular fashion trend. Not restricted to any particular age group, chocolate diamond rings are popular with women in all age groups in different forms. Teens love the fashion trend and use them as popular chocolate fashion rings. Women love them as an alternate to common mainstream jewelry. JewelOcean.com is now proud to introduce the Chocolate Diamond Rings collection to match the growing fashion trend.
The Chocolate diamond rings on JewelOcean.com are made only with real natural diamonds which are not treated or enhanced in any manner. Customers will be pleased to note that our entire line of chocolate diamond rings follows the same strategy. Many jewelers use various forms of treated brown diamonds, which enhances their color. Due to these treatments the brown color in the diamonds becomes more pronounced. It takes shades of chocolate or champagne. These diamond treatment methods, including irradiation and heat treatment, can sometimes damage the diamond and make it more fragile. That is why jewelocean.com dedicates itself to providing its customers with only real, naturally produced, chocolate diamond rings which are made with non treated brown diamonds.
JewelOcean.com has added a whole collection of diamond rings, wedding rings and wedding sets to its wedding collection. The entire collection is made with brown diamonds. Based on different shades of brown diamonds, these diamond rings would be labeled as Chocolate diamond rings, Champagne diamond rings and Brown diamond rings. The chocolate diamonds will be available in all diamond cuts available at jewelocean.com including popular round cut brown diamonds and princess cut brown diamonds. They would also be available in a range of carat weights starting from ¼ carat to 1 carat diamond weight.
JewelOcean a leading discount jewelry retailer that specializes in selling engagement rings and wedding sets online at cheap and affordable prices. With thousands of positive reviews and ratings, customers love JewelOcean superior product quality along with its great customer service. All purchases on the website come with guarantee certificate, with refund policy and lifetime warranty options. Customers interested in looking at the chocolate diamond engagement rings should visit JewelOcean.com.