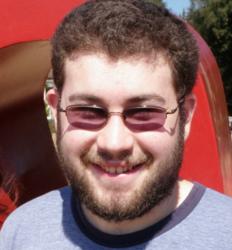 If you love top-notch urban fantasy, the Stein & Candle series will pleasantly surprise you. And if you are pitching, we wish you best of luck and can't wait to see your work.
Santa Cruz, CA (PRWEB) April 17, 2012
Writer's House is a thriving residential community of student writers from UC Santa Cruz and, on Wednesday, 25th April, they will be playing host to prodigious young author, Michael Panush.
At 22-years-old, Michael Panush has distinguished himself as one of Sacramento's most promising young writers. Michael has published numerous short stories in a variety of e-zines including AuroraWolf, Demon Minds, Fantastic Horror, Dark Fire Fiction, Aphelion, Horrorbound, Fantasy Gazetteer, Demonic Tome, Tiny Globule, and Defenestration.
Michael released his first novel, weird Western collection Clark Reeper Tales. He recently announced a multiple-book deal with Curiosity Quills Press, with the first book, The Stein & Candle Detective Agency, Vol. 1: American Nightmares, released on 18th March.
The event on the 25th of April will run from 7pm to 9pm Pacific Time, with Michael reading from a selection of his stories, followed by a signing. Furthermore, Mr. Panush will be hearing aspiring authors' pitches at the end of the event, giving fellow writers a chance to have their works presented directly to Curiosity Quills Press. Authors interested in preparing a pitch beforehand are encouraged to read the publisher's submission guidelines.
"We look forward to seeing both readers and writers joining Michael Panush at the reading event," says Eugene Teplitsky, Managing Partner at Curiosity Quills Press. "If you love top-notch urban fantasy, the Stein & Candle series will pleasantly surprise you. And if you are pitching, we wish you best of luck and can't wait to see your work."
The event will be held in the Kresge Writing Center (in the Kresge Study Center downstairs and to the left), 600 Kresge Ct. Santa Cruz, CA 95064, so join us for an evening of paranormal mystery, b-movie monsters, hard-boiled detective noir – and even free refreshments!
About Michael Panush:
Michael Panush is the author of Clark Reeper Tales, his first novel. Michael began telling stories when he was only nine years old. He won first place in the Sacramento Storyteller's Guild "Liar's Contest" in 2002 and was a finalist in the National Youth Storytelling Olympics in in 2003. In 2005, Michael's short story entitled, Adventures in Algebra, won first place in the annual MISFITS Writing Contest.
In 2007, Michael was selected as a California Art's Scholar and attended the Innerspark Summer Writing Program at the CalArts Institute. He graduated from John F. Kennedy High School in 2008 and now attends UC Santa Cruz.
About Curiosity Quills Press:
Curiosity Quills Press (http://curiosityquills.com), launched in June, 2011 by writers, for writers, out of a common frustration with the state of publishing today. Instead of relying on readers to sift through the so-called "Amazon slush-pile," CQ presents a uniformly top-notch level of quality, tastefully curated, hard-hitting storylines, and memorable characters readers won't forget amidst their Kindle downloading sprees.
We know it's hard to stand out from the crowd when it's millions large, but Curiosity Quills Press helps level the playing field through its members' innovative social media approach, a transparent culture, and a deeply passionate team.