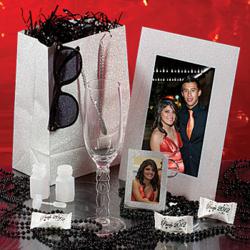 South Whitley, Indiana (PRWEB) April 19, 2012
A few years ago, individual candles and photo frames were top, keepsake choices. Today, according to Jacquie Downey, Director of Sales and Marketing for Stumps Party, "Swag bags filled with bling are extremely popular prom gifts throughout the United States and Canada."
Stumps Party, a top, online prom supplies and event supplies store, first offered swag bags with bling in 2011 with five themes. Keith Bansemer, Director of Internet Marketing for Stumps Party, explains, "The concept of swag bags sold so well that Stumps quadrupled the number of different themes offered to twenty this year. The bags with bling combinations continue to increase in popularity."
Reasons for Swag Bag Popularity
Bansemer points to Hollywood as the creators of the swag bag concept. "Companies wooed celebrities during the Academy Awards by including expensive products and gifts in swag bags. Prom organizers jumped on the idea. Every teen should feel important during his or her prom night."
Downey adds, "The more items per bag, the lower the unit price per item. Each easy-to-carry, swag bag is a complete package of themed fun."
Best-Selling Swag Bags

Hollywood Swag Bags
Paris Swag Bags
Tropical Swag Bags
Star Swag Bag
Each swag bag includes themed or personalized items like glass flutes, playing cards, bubbles, leis, mint tins, candies, beads, frames, sunglasses, and bubbles.
Other Swag Bag Ideas
Include tickets to school games, concession stand coupons, or promotional items from area businesses in prom, swag bags. Colleges are often willing to donate small items, too.
"Some schools send out letters asking parents to donate fun items, while others raise funds to buy the items outright. It's all about putting your students first and creating a night filled with memories they'll cherish," says Downey.
About Stumps
Stumps Prom & Party has been America's leading seller for prom, event and party supplies since 1926. Stumps introduced the first memory book and the first decorations for prom 86 years ago. Based in South Whitley, Indiana, Stumps has played a pivotal role in transforming millions of school events from ordinary to extraordinary. For more information, visit http://www.StumpsParty.com.