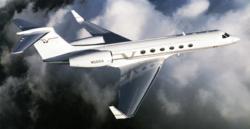 The I-Jet Card offers a unique way to charter private jets.
London, UK (PRWEB) April 19, 2012
Customers of Private Jet Central can now take advantage of the new I-Jet program recently launched on the company's website. The I-Jet Card which was officially introduced on the 1st of April and is intended to provide customers with more flexibility when chartering jets as well as being the most efficient way to fly.
The principal benefit for many customers of Private Jet Central will be the speed at which the new I-Jet Card makes it possible to arrange charter flights. From the first contact to the plane taking off can now be in as little as 4 hours. The details of I-jet Card holders are stored on an encrypted database which results in a minimal amount of paperwork and delay for the flight to be arranged.
The Managing Director of Private Jet Central has said "The I-Jet Card offers a unique way to charter private jets." He went on to say "Not only will it save our customers time it helps to make our pricing system more transparent."
The ability to accept signatures digitally is another new feature that is expected to improve customer service and turnaround time. The E-sign process significantly speeds up the administration process and can be done in as little as two minutes. Signatures can now be accepted from digital devices including smartphones, tablets and laptops.
Business and pleasure users who want to fly private jet from London to Bahrain can book their flights with Private Jet Central. With over 10,000 aircraft of various sizes and specifications available at any given time PJC aim to find the right jet for each journey. Customers wishing to fly to Bahrain can also benefit from fully customisable flights including crew, catering requirements and dedicated flight consultants.
About Private Jet Central
Private Jet Central is a global jet charter company with offices in the United Kingdom, United States and the Middle East. Founded in 2001 they offer a range of jet charter services to business and pleasure users in the UK and Europe. With over 10 years' experience in the jet charter industry they are ideally placed to meet their client's requirements. More information on the full range of services offered by Private Jet Central is available from their website at http://www.privatejetcentral.com/ and also by contacting any of their offices by phone or via e-mail.