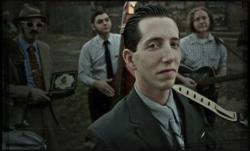 Cincinnati, OH (PRWEB) April 18, 2012
Of the many roots musicians traveling the world, spreading the early American music tradition, St. Louis musician and singer Pokey LaFarge is the next in line to make a significant impact on music enthusiasts everywhere. His creative mix of early jazz, string ragtime, country blues and western swing rings true and fine, making him one of the most innovative of all the purists performing American roots music today. It's wonderfully infectious, and all laid down in front of a big, big swingin' beat
General Admission tickets, $8 ADV & $10 DOS (plus applicable fees), go on sale Friday April 27 at 10 AM at http://www.ticketmaster.com, http://www.tafttheatre.org, the Taft Theatre Box Office and all Ticketmaster outlets including select Kroger stores. Charge by phone at 1.800.745.3000.
A lot of performers are content to play old material, reworking the tunes to give them new life or to stamp them with personal style. But LaFarge both achieves timelessness with his original songs and honors the legendary songwriters and musicians of songs he covers. He uses his booming voice as an instrument with an incredible range; above his parlor guitar one moment he shouts a line and the next he croons. And while his music may be a fitting soundtrack to R. Crumb's comics, don't dare to call it "old-timey." Whether performing solo or with his crew of painstakingly hand-picked supporting musicians, Lafarge's extraordinary blend of raw talent and refined, idiosyncratic charm turns reviewers into poets as they attempt to label his one-of-a-kind sound.
Born in the heartland of America and now just 26 years old, Pokey LaFarge has been hitching through the countryside and whisking off to faraway lands ever since he was a teenager. He is a perpetual traveler, constantly in motion and drawing musical inspiration from the heroes and misfits of yesterday; the long lost troubadours of country, the kings of swamp-drenched ragtime, and all the legendary bluesmen of the Cotton Kingdom. Sharing that inspiration has been a mission of sorts for LaFarge, making sure that people remember that there's more to music than just the sounds that manufactured pop stars are making today. LaFarge is out to help listeners and live audiences rediscover an earlier time in America by bringing forth his special mix of music, featuring such acoustic instruments as parlor guitar, guitjo, double bass, kazoo, and harmonica. His sounds are truly original and modern, yet LaFarge's influences are apparent, as tinges of Blind Boy Fuller, Bob Wills, and Jimmie Rodgers are easily recognizable.
Terry Nolan of No Depression may have described LaFarge and his album best, as he mused that the songster "could be the birth of the next Bill Monroe creating such a fine mix of ragtime, jugband, blues, folk and country, he has found his own genre. For now, he's solidly in the contemporary Americana genre, only because the music is hard to categorize. And I think Pokey LaFarge prefers it that way. Catch him on record and live before he leaves us all in his dust."
LaFarge has no plans of stopping his mission of spreading the joy of early American music to the masses. With him and The South City Three already scheming their next studio recording and planning their jam-packed 2011 performance schedule that will certainly have them playing even more high profile venues and events worldwide, look for Pokey to continue his rise as a premier tradition-bearer, musician, songwriter, and entertainer.