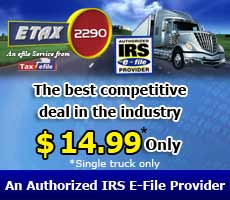 E-file Form 2290 Today, Visit Etax2290.com!
(PRWEB) April 17, 2012
An Employer Identification Number (EIN) is also known as a federal tax identification number, and is used to identify a business entity. It is also used by estates and trusts which have income which is required to be reported on Form 1041, U.S. Income Tax Return for Estates and Trusts (PDF). Refer to Employer ID Numbers for more information.
When Filing a Form 2290 to pay the Truck Tax in previous years, filers could do so using a social security number. This was an acceptable identification number because the IRS was still working on issuing EIN's to all Sole Proprietorships. With that be said the use of Social Security Numbers in the Filing of Form 2290 is no longer acceptable. Per the IRS website all 2290's must be filed using an EIN number.
Now for those who don't have an EIN number there is a number that can be called to verify a business name and EIN as it is in the IRS database. If filers are unsure of either the Business name or the EIN simply call this number and go through the IRS prompts to verify the information. The number to call is:
United States: 866-699-4096 (toll free)
Canada or Mexico: 859-669-5733 (not toll free)
There are some filers who have not been issued an EIN number and this may include filers who have recently initialized a business. For those filers who don't have an EIN or call to verify and are informed that the IRS has not yet issued an EIN to them there is a way to request an EIN be issued. There are two options. Filers may:
1. Request an EIN by phone by calling 1-800-829-4933
2. Apply online by visiting http://www.irs.gov/businesses/small, and click on the "Employer ID Numbers" (EINs) link
To file Form 2290 today and pay the Truck Tax visit http://www.etax2290.com!