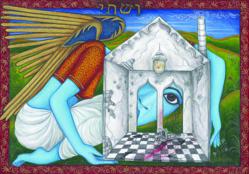 Denver, CO (PRWEB) April 19, 2012
Siona Benjamin, a painter originally from Bombay now living in New York, comes to Denver's Mizel Museum for a series of programs, each highlighting a particular facet of this multi-dimensional artist.
Benjamin will be the guest speaker at one of the museum's popular Salon Nights on Thursday, May 17, 5:30 p.m. During the program, Faces: Weaving Indian Jewish Narratives, Benjamin will discuss her Fulbright fellowship project and research travel to India.
On Friday, May 18, 6:30 p.m. Benjamin will host one of Mizel Museum's signature Art of Shabbat dinners, this one offering the unique flair of Indian vegetarian food paired with conversation with Benjamin. Guests' senses will be delighted in the museum's extraordinary gallery setting.
Benjamin will lead a Creative Sundays Workshop focusing on miniature painting on Sunday, May 20, 10:00 a.m. to 3:00 p.m. Participants will explore the intricate colorful tradition of Persian/Indian miniatures in a hands-on setting. Benjamin will delve into the work and influences of contemporary artists from South Asia now living in the West, whose inspiration is often drawn from ancient traditional cultures.
Siona Benjamin's work reflects her background being raised Jewish in Hindu and Muslim cultures in India. Her paintings combine the imagery of her past with the role she plays in America today, creating mosaics inspired by both Indian miniature paintings and Sephardic icons. She was awarded a Fulbright Fellowship in 2010 for her project titled Faces: Weaving Indian Jewish Narratives. Her Fulbright project seeks to raise awareness about the long-standing history of Indian Jewish communities in India by documenting with photography and painting the individual faces and stories of this ancient group of people. Siona's residency at the Mizel Museum, with the support of local sponsors, will consist of three programs, each one highlighting a particular facet of this multi-dimensional artist.
The Mizel Museum is a portal to the contemporary Jewish experience. Its exhibits, events and educational programs inspire people of all ages and backgrounds to celebrate diversity. Fine art, film, literature, drama, music, and technology offer interactive experiences that promote community, understanding and multiculturalism. The Museum is located at 400 S. Kearney Street, Denver, where visitors can tour the new permanent exhibit, 4,000 Year Road Trip: Gathering Sparks. For more information, visit http://www.mizelmuseum.org or call 303-394-9993.