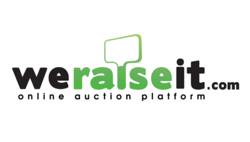 We think you'll love it because it is exactly what you ordered!
Minneapolis, MN (PRWEB) April 19, 2012
Completing the last phase of development, WeRaiseIt will exclusively offer non-profit or charitable organizations all-in-one web-based auction software for their events. This last phase of completion is set to be ready for use by June 1st, 2012. The web-based software will then be ready to launch a beta version for customers to test and give feedback of the new product.
The WeRaiseIt auction software offers the tools to create an online, live and/or silent auction that is also easy-to-use, customizable, highly secure, and affordable. The third and last phase of development refers to the new features available for live events. These new features will include:

Management action tools to record winning bids from the live/silent auction
Ability to collect data from the event and transfer to the database to retrieve registration information from the attendees
Export winning dollar amounts to the terminals where the winning bidders reside
Authorization and settlement of payments via Internet Protocol
Update authorization and settlement of payments to the database
Able to complete these tasks with the use of a flashdrive memory stick
To make the payment process at the live and/or silent event the most efficient as possible, WeRaiseIt provides the use of a flashdrive to import and export data from the terminal to the database. This feature incorporated into the design of the software provides less manual input of data at the event. The software is very easy to use and will enhance productivity of manual entry of data with a few quick computer strokes. As well, for the reason that it is a web-based system, no extensive computer network of desktops is needed. "We think you'll love it because it is exactly what you ordered!"
About Event Payment Services: Event Payment Services was created by BancCard Financial Services, Inc. (BFSI) to specialize in the fundraising needs of nonprofit organizations. ePSPay ™ and WeRaiseIt are brands of Event Payment Services. Since 1997, BFSI has provided credit and debit card processing, check verification, check conversion/imaging, gift and loyalty card services, and merchant processing terminals. BFSI provides these services through its terminals and web-based software. EPS was created in 2006 to focus on the fundraising needs of nonprofit organizations. BFSI, through ePSPay ™ and WeRaiseIt brands, is an innovator in fundraising tools for the nonprofit world. BFSI, EPS and WeRaiseIt can be found on the web at http://www.eventpaymentservices.com, http://www.weraiseit.com
###