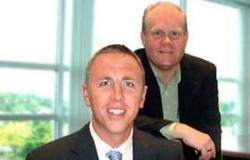 I believe the industry was not only ready for this, it was demanding it.
Eden Prairie, MN (PRWEB) April 19, 2012
The Minneapolis based Asset Management firm has been gaining a lot of notoriety as a trend setter in the investment marketplace. The new site certainly validates what all the hype has been about.
Ryan Litfin, Managing Partner of Vincent Capital Group and Co-host of the fastest growing investor advocacy show in America, Financial Fortitude, recently stated in an interview, "Nothing ever stays stagnant. You're either advancing or you're retracting. And since the technological advancements in the Alternative Investments market have been so significant over the last decade or so, I believe the industry was not only ready for this, it was demanding it."
According to the CME Group, the overall growth of Assets Under Management "AUM" in Alternative Investments has been unprecedented when compared to shrinking markets such as stocks. However, despite this strong investor appetite for investments which are uncorrelated to the stock market, there appears to remain a chasm between the continued demand for alternatives and the actual knowledge or the ability to easily gain insight on the subject.
"Narrowing that gap was our core mission when we set out to create what we believe is the most comprehensive site of its kind in the industry." Litfin concluded.
Dale Francis, Co-host of Financial Fortitude and COO of Vincent Capital Group, added, "This project was not something that just happened overnight, nor was it an inexpensive proposition. We worked arduously for many months with our research, design, and development teams. But in the end we are extremely proud of the results."
If you'd like to learn more simply contact Media Relations: info(at)vincentcapitalgroup(dot)com or 612-424-8650.