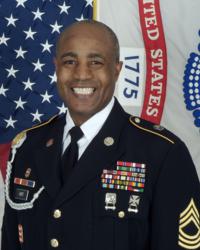 I wanted to not just attend college, but to retain and use my lessons throughout my career and future endeavors.
Kansas City, Mo. (PRWEB) April 18, 2012
Grantham University, a 61 year old institution delivering accredited online degrees to working adult students around the world, has selected Master Sergeant Reginald Hurt as its 2012 Outstanding Graduate. MSG Hurt completed his Bachelor of Science – Multidisciplinary Studies degree in December 2010 and his Master of Business Administration– Project Management degree in April 2012, graduating Summa Cum Laude in both degrees.
On April 17, 2012, Dr. Jeffrey Cropsey, vice president for strategic initiatives at Grantham University, presented MSG Hurt with the Outstanding Graduate Award at the Distance Education and Training Council's (DETC) 86th Annual Conference.
"I was honored to present this award to such an outstanding candidate," said Dr. Cropsey. "Reggie truly embodies what it means to be a successful working adult student. He started his courses at Grantham with a goal in mind – to obtain his undergraduate degree and graduate with honors – and went on to achieve that and so much more."
Since the inception of the DETC Outstanding Graduate Program twenty-nine years ago, Grantham University has awarded this honor to one of its graduates each year. Criteria for this award include a GPA of 3.5 or higher, evidence that the graduate has made significant contributions to society and his/her chosen profession, as well as an essay submission demonstrating the graduate's application of knowledge and skills acquired in the online classroom to his/her career and community.
"I realized the importance of a valid and useful degree," commented MSG Hurt. "I wanted to not just attend college, but to retain and use my lessons throughout my career and future endeavors."
MSG Hurt has served proudly in the Army for the past 28 years. While on tour in Afghanistan, he provided input for sewage, roads and infrastructure improvements for new facilities for Afghanistan soldiers and police forces. MSG Hurt also served as the lead engineer for the force protection analysis, planning and upgrades of Kabul's voting sites during Afghanistan's first ever election.
In August 2011, while pursuing his master's, MSG Hurt was selected for Sergeant Major. He currently serves as a senior enlisted advisor in the Army Sustainment Command. MSG Hurt holds the Bronze De Fleury Medal, which is presented by the U.S. Army Corps of Engineers, and a Bronze Star amongst his military awards.
For more information about Grantham University and its online degree programs, visit: http://www.grantham.edu or call 800-955-2527.
About Grantham University:
Established in 1951, Grantham University is a private institution that specializes in online education for the working adult student. Its mission is to provide accessible, affordable, professionally relevant online degrees in a continuously changing global society. Grantham University's online undergraduate and graduate degree programs include: Accounting, Business Administration, Criminal Justice, Computer Science, Engineering Technology, Health Sciences, Information Technology, Medical Coding and Billing, Nursing, Human Resource Management and Business Intelligence. Grantham University offers military scholarships for active duty, reserve, guard, veterans and military family members, as well as scholarships for law enforcement professionals. Grantham's courses are 100% online, allowing students to study at home, at work, on Temporary Duty (TDY) or from almost anywhere in the world. Accredited since 1961 by the Accrediting Commission of the Distance Education and Training Council, Grantham University has compiled a distinguished record as a respected and accredited distance learning university spanning six decades of service to education.