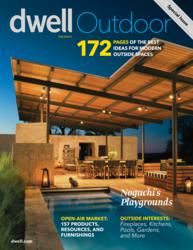 New York, NY (PRWEB) April 18, 2012
Dwell Media launches their first special issue devoted to outside spaces: Dwell Outdoor contains 172 pages of the best modern terraces, gardens and patios, complemented by 157 products, resources and furnishings. This photo heavy compendium also includes pages and pages of new products, including everything from deck chairs and chaise lounges to fireplaces and outdoor lighting. Dwell offers tips and inspiration for relaxing by the sea, planting a garden, or entertaining on an urban roof deck.
The issue contains:
A colorful spread on vertical gardens and sod roofs around the globe including:
*Botanist Patrick Blanc shares his passion for creating tapestries of flora and foliage, which he became famous for after debuting an instillation at Qaui Branley museum in Paris (with architect Jean Nouvel) in 2004. In the years since he has created more than 300 vertical gardens around the world.
*Interior courtyards by architect Rene Gonzalez and vertical gardens by GSky Plant Systems bring Miami's tropical waterfront to life.
*Green roofs and minimalist gardens from Poland, Spain and California offer ideas suited for each climate.
Archival stories highlighting mid-century modern design icons Luis Barragan and Isamu Noguchi, and their creations for the outdoors, from fountains to playgrounds.
Summer travelers: Be inspired by the latest in RV travel, whether in Chris Deam's elegant new design for Airstream or the NASA-inspired Cricket Trailer (part tent, part RV!).
Dwell Outdoor also highlights a sophisticated and minimalist pool house in the rolling hills of Texas created by world-renowned architects Lake / Flato. And don't miss the 14-page spread on treehouses that is sure to send Moms and Dads to the drawing board this spring! There is even a section on modern chicken coops for those who want to try their hand at a little urban homesteading.
The issue hits newsstands across America this week.
To Learn More About Dwell Go To: http://www.dwell.com