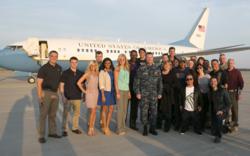 'The USO is proud to partner with Admiral Winnefeld and these great celebrity volunteers to let our troops know how much we appreciate them. ' - USO President Sloan Gibson
Arlington, VA. (PRWEB) April 17, 2012
Twitter Pitch: @thejointstaff, @andersonanthony, @DCCheerleaders, Randy Johnson, @haysbertdennis & @weemantacos visit troops in Middle East with @the_USO
As the Nation's second highest-ranking military officer Admiral James A. "Sandy" Winnefeld Jr. knows first-hand the importance of letting our troops know how much they are appreciated. And when he set out on a USO/Armed Forces Entertainment tour he didn't do so alone. Along for the multi-country adventure are actors Anthony Anderson and Dennis Haysbert, legendary baseball pitcher Randy Johnson, American Idol alumni Diana DeGarmo and Ace Young, motion picture and TV personality Wee Man and three of America's Sweethearts the Dallas Cowboy Cheerleaders, a recipe sure to deliver a mix of cheer and good times to our men and women in uniform.
Details:

So far, the group has visited hundreds of troops and military families in Italy at Aviano Air Base and Naval Support Activity Naples.
Admiral Winnefeld serves as the ninth Vice Chairman of the Joint Chiefs of Staff. His unit commands at sea included Fighter Squadron 211, USS Cleveland (LPD 7), and USS Enterprise (CVN 65). Most recently he served as the Commander of North American Aerospace Defense Command (NORAD) and U.S. Northern Command (USNORTHCOM).
This trip marks the first USO tour experience for Admiral Winnefeld.
Anderson starred in the NBC Emmy Award-winning drama "Law & Order," as 'Detective Kevin Bernard,' a role that earned him two nominations for the NAACP Image Award for Outstanding Actor in a Drama Series. Additionally, he has made big screen appearances in more than 20 films including box office hits such as "Transformers" and "The Departed." This is Anderson's first USO tour.
One of the most traveled of USO tour veterans, this will be the 74th USO tour for the DCC as an organization. Last December, members from the troupe visited 21 installations and put on 6 performances in 10 days, delivering holiday cheer to more than 4,000 troops and military families in Japan and Korea.
DeGarmo first won over TV fans everywhere with her portrayal of 'Angelina' on the No. 1 daytime drama "The Young & The Restless." No stranger to supporting troops and their families this will be her second USO tour. In 2005, DeGarmo delivered cheer and a touch of home to more than 12,700 men and women in uniform serving overseas in the Middle East.
Haysbert has been in over 30 films and began his acting career in 1979. Recognized most for his portrayal of 'President David Palmer' in the hit television series "24" and as 'Sergeant Major Jonas Blane' in "The Unit," his recent big screen projects included a role in "Kung Fu Panda 2," among his many other film credits are "Jarhead," "Love & Basketball," "Random Hearts," "Waiting to Exhale," and "Heat."
This trip marks the fifth USO tour for Haysbert, who has personally lifted the spirits of more than 7,700 troops and military families in Japan, Okinawa, Iraq, Kuwait, Afghanistan and Egypt.
Randy Johnson was known for having one of the most dominant fastballs in Major League Baseball, with pitches that regularly approached and occasionally exceeded speeds of 100 miles per hour. He owns a World Series ring and co-MVP honors, and was a 10-time All-Star. When he retired in 2010, Johnson wrapped up his 22-year career with a record 303 wins, 4,875 stikeouts and two no-hitters, including a perfect game.
This is Johnson's third USO tour, the baseball legend previously visited with troops and military families in Japan, Okinawa, Iraq and Kuwait and delivered a touch of home to more than 3,400 men and women in uniform.
Young is a recording artist as well as a Grammy-nominated songwriter. Among his songwriting accomplishments include Chris Daughty's "It's Not Over" and Janet Leon's "Let Go." Additionally, Young has appeared in hit TV series such as Fox's "Bones." He has also headlined two Broadway shows, "Grease" and "HAIR," where he met now girlfriend DeGarmo. This is the first USO tour for Young.
Jason "Wee Man" Acuna is probably best known for his appearances in "JACKASS" series and films. But Acuna's first claim to fame came on the wheels of a skateboard, when in 1993 he was prominently featured in an article spotlighting 'wee' skateboarders in the popular skateboard magazine "Big Brother." In addition to his on-screen antics, Acuna owns the successful Chronic Tacos restaurant in Redondo Beach, and is a spokesperson for Monster Energy, Von Zipper Sunglasses, and DVS shoes. This is Acuna's first USO tour.
Quotes:
Attributed to Admiral James A. Winnefeld, Jr., Vice Chairman of the Join Chiefs of Staff:
"The men and women who serve in our nation's military do so at a great cost. They put their lives on the line at a moment's notice and leave behind the comforts of home, without hesitation, to live in some extreme and harsh conditions. This trip gives us a chance to bring our troops a touch of home at a time when they are furthest from it, and more importantly, reminds them that America is thankful for their service. As Vice Chairman of the Joint Chiefs of Staff I am grateful for this opportunity to team up with the USO and an amazing cast of talent."
Attributed to Sloan Gibson, USO President:
"The USO is proud to partner with Admiral Winnefeld and these great celebrity volunteers to let our troops know how much we appreciate them. Our deployed troops are sacrificing so much for us, and this tour sends a very clear message that their service is greatly appreciated."
Attributed to Anthony Anderson:
"I've been very fortunate in my life and there is no doubt that most of the credit for that goes to our troops. They give up things in their lives so that the rest of us don't have to, and for that I say 'thank you.' And that's why I jumped at the chance to go out on this USO tour. It's been an amazing experience so far. "
Attributed to Dallas Cowboy Cheerleader Ally Taylor:
"It's because of the men and women who defend this country and our freedoms that I am able to follow my dreams and take part in this USO tour. There aren't enough words to express how grateful I am for all that they and their families sacrifice."
Attributed to Diana DeGarmo:
"What an amazing opportunity! I love being able to tell our troops face-to-face how much America appreciates their service. And sharing this experience as a couple makes it even more special. Ace and I are so humbled by this experience and can't thank Admiral Winnefeld and the USO enough for making this trip possible."
Attributed to Dennis Haysbert:
"You know, I never get tired of visiting our troops. This is my fifth USO tour and every time has been the experience of a lifetime. Not everyone can see what I've seen but everyone can let our service heroes know how much they are appreciated. It's our duty to them."
Attributed to Randy Johnson:
"They say there is nothing more American than the sport of baseball, I say there is nothing more American than the troops who serve our country. They are true inspirations and heroes, I am proud to be partnering with the USO and Admiral Winnefeld to let them know just that."
Attributed to Ace Young:
"Music means so much to me and being able to share something I love with the men and women who keep our country safe is an honor. I can't think of a better way to spend my time, this is my first USO tour but I definitely can't wait to do it again."
Attributed to Wee Man:
"I do a lot of crazy stunts, it's how I make my living and I love it. But being on this USO tour and seeing the role our troops play in keeping us safe is humbling. To do what they do every day, shows that they have a passion for their profession that most of us will never know. "
For more information about the USO, visit uso.org.
Multimedia:
USO Tour Photos
http://bit.ly/HPa09b
USO Fact Sheet
http://bit.ly/wrrYmh
USO Logo
https://uso.box.net/shared/6q5cq0siij
AFE Logo
http://bit.ly/bCGwld
Social Media and Other Web Sites:
Web: http://www.uso.org, http://www.armedforcesentertainment.com, http://www.jcs.mil, http://www.anthonyanderson.com, http://www.dallascowboycheerleaders.com, http://www.dianad.com, http://www.dennishaysbert.tv, http://www.youngbrothersentertainment.com and http://www.iamweeman.com
# # #
About the USO
The USO (United Service Organizations) lifts the spirits of America's troops and their families millions of times each year at hundreds of places worldwide. We provide a touch of home through centers at airports and military bases in the U.S. and abroad, top quality entertainment and innovative programs and services. We also provide critical support to those who need us most, including forward-deployed troops, military families, wounded warriors and their families and the families of the fallen.
The USO is a private, nonprofit organization, not a government agency. We rely on the generosity of our volunteers and donors. In addition to individual donors and corporate sponsors, the USO is supported by President's Circle Partners: American Airlines, AT&T, Clear Channel, Kangaroo Express, Kroger, Lowe's, Northrop Grumman Corporation, Procter & Gamble, and TriWest Healthcare Alliance and Worldwide Strategic Partners: BAE Systems, The Boeing Company, The Coca-Cola Company, Lockheed Martin, and Microsoft Corporation. We are also supported through the United Way and Combined Federal Campaign (CFC-11381). To join us in this patriotic mission, and to learn more about the USO, please visit uso.org.