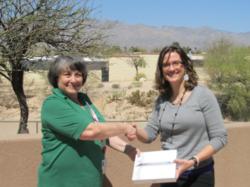 Sulphur Springs, Texas (PRWEB) April 19, 2012
At the 2012 HIMSS Conference in Las Vegas, leading healthcare IT blog HIStalk debuted its Booth Crawl Contest, which required participants from hospitals to go to the booths of HIStalk sponsors to collect the answer to a specific question, and then turn in their completed survey. Each person who got all the answers correct received an iPad 2. Rita Cartwright, senior business systems analyst at Tucson Medical Center, won an iPad from Access, the world's leading provider of electronic forms (e-forms) management software for hospitals and a HIStalk Gold Sponsor.
"We're proud to continue our long-standing partnership with HIStalk by participating in the HIMSS Booth Crawl, and would like to congratulate Rita on winning an iPad," said Access founder and CEO Tim Elliott.
In late March 2012, Access account executive Brandy Taylor visited Cartwright in Tucson, Ariz. to deliver her prize. While at Tucson Medical Center, Taylor gave a demonstration of Access Evolution for iPad, which enables users to complete e-forms on the fly, apply a secure digital signature and submit for approval. Upon completion, forms are sent into the hospital's enterprise content management (ECM) system and Access Evolution automatically updates business and/or healthcare systems. This advanced solution transforms previously paper-centric processes, including new employee onboarding, capital request approval and physician referrals, into secure, collaborative and paperless ones.
"I'm grateful to Access for the iPad, and was really impressed with how easy Access Evolution makes it to complete e-forms from anywhere," Cartwright said.
The Booth Crawl was just one of the ways Access participated in HIStalk events at HIMSS 2012. Access was also named one of the top four healthcare IT vendors/consultants, as voted for by HIStalk readers.
About Access
Access is the world's leading electronic forms (e-forms) management, automation and workflow software provider. Our solutions transform any paper-intensive forms process into a paperless, collaborative workflow. Hundreds of hospitals worldwide are using Access solutions to improve patient care and safety, cut costs and enhance electronic health records (EHR), patient safety and downtime planning initiatives. Learn more at http://www.accessefm.com.