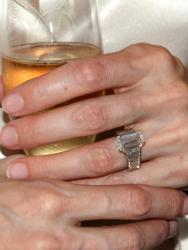 You have to have a perfect stone to pull this look off and with Diamond Nexus that is possible
(PRWEB) April 17, 2012
Actress Angelina Jolie was recently seen wearing an antique table cut engagement ring designed by Robert Procop. Brad Pitt reportedly worked with the ring designer for a year to create the perfect ring to suite her style and compliment her long slender fingers.
The ring features a table cut center stone and graduating accent stones of the highest quality diamonds estimated to have cost the actor upwards of $250,000. "We love the antique look of her ring.The stone cuts aren't outwardly brilliant but they really stand out. You have to have a perfect stone to pull this look off and with Diamond Nexus that is possible. It would be a lot of fun to recreate a design as unique as this one," commented Chelsea Schultz, Nexus Design Studio representative.
A table cut diamond has a flat top, similar to an actual table. All four of the sides have a simple facet similar to a bevel. These diamonds were initially created in the 16th century, but were more commonly used in the 17th and early 18th century in jewelry design.
For customers wanting to replicate the look of Angelina's engagement ring, Diamond Nexus offers celebrity looks for less with the Nexus Design Studio. They can custom make an engagement ring inspired by her stunning antique style engagement ring without spending a fortune.
The Nexus Design Studio can be contacted here at 1.877.202.9044
Mon-Fri 9am - 6pm CST or by email at customjewelry@thenexusdesignstudio.com.
Diamond Nexus was founded in 2004 with the purpose of bringing to the public the powerful benefits of the lab-created diamond simulant revolution. They have over 250,000 customers worldwide that have awarded them an "A+" rating with the BBB, and are the ninth largest online jewelry retailer in America according to the 2011 IR500 list. For two years in a row brides from The Knot have selected them as their Best of Jeweler. Diamond Nexus currently has two retail locations: their flagship store at Woodfield Mall in suburban Chicago, Illinois, and a second store at Mayfair Mall in Milwaukee, Wisconsin. In 2009 the company was named the official jeweler and crown maker of the Miss Universe Organization as part of NBC/Universal's "Green is Universal" environmental initiative.