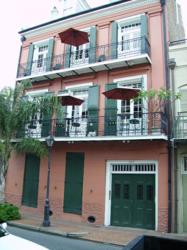 "The opportunity to purchase a New Orleans French Quarter property at a Bankruptcy Auction does not happen often in a lifetime. Discerning buyers should take advantage of this rare chance." says Dave Gilmore, Managing Partner SVN/Gilmore Auction & Rea
New Orleans, LA (PRWEB) April 19, 2012
This historic home was built in 1825 for the Avegno family and features Greek revival architecture, Federal mouldings, a 4-story main home, 2-story rear dependency quarters, carriageway and courtyard. The home was once a landmark - one of New Orleans' earliest "sky scrapers", its four stories towering over other buildings in the French Quarter at the time. It was elegantly designed with a graceful center staircase inside and perfectly proportioned rooms framed by tall windows. Its intricate wrought iron balconies were monogrammed with the owner's initials "PA" for Phillipe Avegno.
Virginie Avegno Gautreau, the subject of artist John Singer Sargent's scandalous masterpiece Madame "X", was born in the home. The home went through a major renovation in the late nineties both modernizing and restoring the historic property.
For more information and bid package visit http://www.gilmoreauction.com or call Sperry Van Ness/Gilmore Auction at 504-468-6800 or toll free 800-254-1280. Bidders must submit a $50,000 Cashier's check in order to bid at the auction or online. The winning bidder will be required to deposit ten percent of the total contract price and close within 39 days. Free, clear insurable title will be transferred.