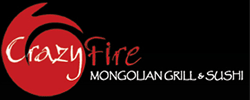 Raleigh, NC (PRWEB) April 18, 2012
Raleigh's Crazy Fire Mongolian Grill lets patrons pile plates high with a choice of 60 fresh, raw ingredients for sword-wielding chefs to sauté to satisfaction on a massive public grill. Now, the buffet features all organic, locally grown produce to nourish bodies with cleaner, healthier options that are prepared fresh daily. Crazy Fire Mongolian Grill's pledge to higher quality fare comes without any price increase, making this upgrade purely profitable for stir-fry savvy customers.
A long stretch of buffet stations displays all you can eat meat, seafood, and tofu selections for patrons to dress in organic veggies and top with sauces and spices for piquant dishes with unique signatures. Dozens of flavorful additions such as mango habanero sauce and Caribbean jerk seasoning offer exponential combinations for experimental appetites. Traditionalists can compose classic bowls of beef broccoli, Thai red curry, or Mapo tofu.
Convening around an enormous sizzling grill, customers hand off their raw rough drafts to professional stir-fry artists for savory searing. Many secluded booths welcome easy conversations over steaming, vibrantly colored concoctions, and a communal lunch counter brings in the employee on lunch break for a quick meal alone or with a coworker.
Since the buffet's healthy selections clear patrons' consciences, they are free to indulge a bit at the full service bar, which offers an extensive selection of beer, wine, and mixed drinks. Trademarked Crazy Coolers and Crazy Martinis accent meals in flavors such as cherry limeade and pineapple upside-down cake. Once finished, sated diners are encouraged to ring the Crazy Fire gong to show they enjoyed the food.
Raleigh's Crazy Fire Mongolian Grill shows commitment to community by purchasing locally grown produce raised in ecologically responsible conditions. Though combinations seem almost endless, patrons can rely on robust flavor and green standards without additional cost.
The origins of the food served at The Crazy Fire Mongolian Grill began in ancient Mongolia. According to legend, after a long day of battle, Genghis Khan and his warriors set up a tent, made a campfire, and then sat around the campfire to prepare for their dinner. Short on cooking utensils, the warriors used their swords, and other weaponry, to thinly slice the meat, then grill the meat upon the warriors' upturned shields over the campfire. It wasn't until the 13th century, Mongolian Grill was introduced into Central Plains. The Chinese people expanded upon the original idea by adding some fresh vegetables, spices and sauces to make Mongolian Grill more attractive.
About the company:
Crazy Fire Mongolian Grill provides more than 60 ingredients prepared FRESH and decides to use organic and locally grown produces. Crazy Fire Mongolian Grill is the restaurant where customers choose their own ingredients and sauces from fresh bar, then hand over to the grill and enjoy the entertainment of watching how their customized plate is created. Plus, since this location, located at 3611 Spring Forest Road, in Raleigh N.C., is run "all you can eat" buffet style, customers can be creative and try as many dishes and ways they want to.
Crazy Fire Mongolian Grill hours of operation:
Monday - Thursday 11am - 10pm
Friday - Saturday 11am - 11pm
Sunday 11:30am - 9pm
Crazy Fire Mongolian Grill also has a party room, that can hold up to 40 people, perfect for business lunches and dinners, corporate events, church events, and birthday parties. For more information visit their website at http://www.crazyfiregrillandsushi.com.