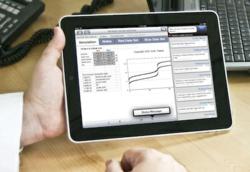 The app is powerful, intuitive, and fast. I love the CERF iPad interface.
Redwood City, CA (PRWEB) April 17, 2012
ELN Technologies (formerly Rescentris) announced today that it will unveil an all-new version of the CERF electronic laboratory notebook iPad App at the 10th Bio-IT World Conference & Expo 2012 in Boston next week. CERF for iPad allows research scientists to document experiments on the go, in addition to adding files, images, bookmarks, and more. CERF for iPad has been selected as a Finalist for the Bio-IT Best in Show Award. CERF ELN has been awarded multiple recognitions from Bio-IT World in the past, and representatives are excited to use this special anniversary event to debut the newest vision in mobile science laboratory research.
The 10th Anniversary of Bio-IT World takes place from April 22nd – 26th, at the Seaport World Trade Center in Boston. Attendees are invited to visit the CERF booth, #318 and demo the app, in addition to signing up for a chance to win a free Apple iPad.
According to Amber Miller, Microbiologist at Idaho National Laboratory (INL), "The app is powerful, intuitive, and fast. I love the CERF iPad interface." The CERF electronic lab notebook iPad app has been fully re-designed, and sports the full functionality needed for portable data recording.
"CERF is purpose-designed to replace the paper notebooks with something more suitable to a modern research environment," said Dr. Wolfgang Rumpf, Director of Product, ELN Technologies.
The CERF iPad App allows users to connect to any CERF Server and work with their notebooks using a rich, intuitive interface. "Our initial feedback has been very positive," said ELN Technologies CEO Peter Herz. "Users – even those with no previous exposure to CERF – said they found it easy to use. Many scientists have told us that they'd much rather do their work on a small portable device than carry around a laptop or be chained to a desk. The CERF iPad App enables them to do so."
With the CERF iPad App, users can directly create notebook entries from text, images, and any documents they have in their Cloud storage systems such as DropBox. "Users can even dictate their notebook entries using the new iPad's Speech to Text feature," continued Mr. Herz. "It just works." And users agree.
"I just came back from Las Cruces for a National Alliance for Advanced Biofuels & Bio-Products (NAABB) CERF meeting", said Jeremy Tate, CERF Admin for NAABB and Help Desk Manager at the Danforth Plant Science Center. "I was showing off the iPad CERF app and got some very positive feedback from a variety of people. We think it's great. Simple, intuitive, and very fast."
Simple and intuitive design is key to providing scientists with the tools they need to get their work done. According to Dr. Rumpf, "There is too much scrapbooking and reinvention in science – cutting and pasting from one piece of paper to another; repeating experiments because it's faster than searching through all of the old paper notebooks – or worse, repeating experiments because you accidentally overwrote the original data, or simply don't know that one of your colleagues has already done that experiment. Science advances when we build on existing work rather than reinvent it. With CERF, scientists can finally do that."
About ELN Technologies
ELN Technologies, Inc. provides CERF enterprise software to help organizations protect their R&D investments and increase collaboration and efficiency. The company serves a global base of commercial, academic, government and nonprofit research labs in biology and multidiscipline research areas. CERF combines Electronic Lab Notebook (ELN) and scientific content management for a complete paperless lab information and record-keeping solution. See http://www.rescentris.com.
Media contact: Jan Dennison, Communications, marketing(at)rescentris(dot)com