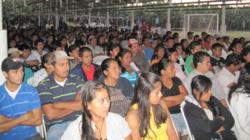 I did not know that the HIV/AIDS virus could pass through the condom.
Guatemala (PRWEB) April 18, 2012
Banasa, together with the Independent Anti-AIDS Committee, delivered 30 AIDS prevention workshops with a focus on family values. 3,000 employees from the banana farms and community leaders from the departments of Retalhuleu, San Marcos, and Quetzaltenango benefitted from this training.
Over the course of two weeks, two doctors from the Anti-AIDS Committee conducted the workshops at the plantations and packing plants. The doctors emphasized that the best ways to prevent the spread of the HIV/AIDS virus are abstinence and/or marital fidelity. Using a condom is a method of last resort because it is not 100% reliable and does not prevent other diseases.
"The purpose of these workshops is to create a change in the behavior, attitudes and beliefs of our employees by instilling them with the positive values which this company embraces---the final result being an improvement in their quality of life," said Bernardo Roehrs, corporate director of the company. "As well, we want to help Guatemala meet the Millenium Development Goals; one of them is to combat HIV/AIDS," stressed the director.
The vast majority of the company's employees had never before heard of the AIDS virus. Others learned new information. Rebecca Arling Gramajo, Nurse from Banasa's farm said, "I did not know that the virus could pass through the condom. With these activities we can always save lives. It is important these kind of workshops so that people are well informed."
About Banasa:
Banasa is one of the largest companies in the agribusiness sector of Guatemala and Central America. It produces and exports tropical fruits with the highest quality and environmental standards, committed to the welfare and development of the employees and communities. For more information visit: http://www.banasa.net/eng/index.php