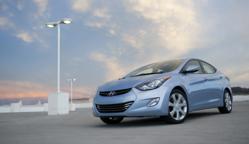 At Chapman Scottsdale Hyundai shoppers can find some of the greatest fuel efficient options that don't compromise on design.
Scottsdale, Arizona (PRWEB) April 19, 2012
Fuel efficiency is important to almost everyone when buying a car and at Scottsdale Hyundai dealers you can find some of the greatest fuel efficient options that don't make you compromise on design. Hyundai is focused on bringing new improvements and innovations such as Gasoline Direct Injection, turbocharged, electric hybrids, plug-in hybrids, light-weight materials, and new designs to all their cars. These changes will allow them to continue to be a leader in fuel economy amongst Arizona Hyundais.
Four Hyundais have exceptional fuel economy and achieve 40-50 miles per gallon. These models include the Sonata Hybrid, Elantra, Accent, and Veloster. The Hyundai Sonata Hybrid runs on both gasoline and electric motor and delivers a total 209 horsepower output. The lithium polymer battery makes the car the lightest car in its genre and still allows it to deliver the same power as heavier metal batteries used in other cars. The car features either a 2.4L four-cylinder or a 2.0L turbocharged four-cylinder engine, which produces enough power to compete with V6 engines of other sedans while still getting about 35 mpg city and 40 mpg highway.
The next model is the Hyundai Elantra. Scottsdale Hyundai customers will be interested to know this car is not a hybrid, but actually uses conventional engines and still produces a great gas mileage of 29 mpg city and 40 mpg highway. The Elantra has 148-horsepower, 1.8-liter four-cylinder and features a Dual Continuously Variable Valve Timing (D-CVVT) which lowers emissions and aids in its overall exceptional fuel economy. The exterior is said to be "Fluidic Sculpture" inspired and keeps a lower, sportier shape.
The third model is the newly redesigned Hyundai Accent. The Accent is equipped with an eco-efficient 1.6L Gamma Gasoline Direct Injection engine that produces 138 horsepower. It features a four-cylinder 6-speed manual or automatic transmission with SHIFTRONIC technology. The Accent is estimated to have 30 mpg city and 40 mpg highway, giving it an estimated total annual fuel cost of only $1,532. This is projected to save the average driver about $900 per year. The car also allows great versatility with its 5-door design.
The last highly fuel efficient model available at Hyundai dealers of Arizona is the Hyundai Veloster. The Veloster comes with a 1.6L Gasoline Direct Inject engine and generates 138 horsepower while still generating about 28 mpg city and 40 mph highway. It also comes with a 6-speed EcoShift Dual Clutch Transmission which delivers a smooth ride and provides efficient power. The car also comes with many exterior features including a backup camera, panoramic sunroof, and 18-inch alloy wheels with painted inserts.
Hyundai is dedicated to providing you with a sleek looking car that leads the U.S in its fuel efficiency. Come down to Chapman Hyundai of Scottsdale to check out these fuel efficient models today!