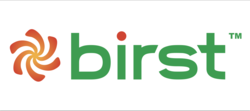 San Francisco, CA (PRWEB) April 18, 2012
Birst Inc., the leading provider of agile business analytics, today announced Brad Peters, CEO of Birst, will participate in a panel of business intelligence and analytics industry experts to discuss redefining BI and analytics in the Cloud at the Cloud Analytics Summit in Mountain View, CA, on April 25, 2012.
Sharing his expertise in building analytics products and solutions, Peters will provide insight regarding the power of agile business analytics for today's organizations. Whether delivered in the Cloud or on-premise, Birst is faster to deploy, more affordable and offers greater time-to-value than traditional BI.
Who: Brad Peters, CEO of Birst, Inc. Follow Birst on Twitter @BirstBI.
What: Panel session: "Redefining BI & Analytics in the Cloud"
When: The Cloud Analytics Summit takes place on Wednesday, April 25, 2012. This panel will begin at 11:20am-Noon PT.
Where: The Computer History Museum in Mountain View, CA.
Other panel speakers include: Doug Harr, CIO at Splunk; Ken Rudin, Vice President of Analytics and Platform Technologies at Zynga; Chor-Ching Fan, Senior Director of Analytics Product Management at LogiXML; and George Mathew, President and Chief Operating Officer at Alteryx.
The Cloud Analytics Summit, part of the 2012 Cloud Innovators Summit executive forum series, will provide a unique meeting place for corporate decision-makers to learn about the latest Software-as-a-Service (SaaS), Platform-as-a-Service (PaaS) and Infrastructure-as-a-Service (IaaS) solutions aimed at addressing their BI needs, so they can harness their "Big Data" sources and integrate their systems and applications into a more productive enterprise-wide resource to satisfy their corporate requirements. For more information and to register, please visit http://cloudanalyticssummit.com/.
About Birst
Birst™ is the leader in agile business analytics. It offers a single place to manage all of your organization's business analytics and the agility to answer questions spanning departments, data sources, and deployments—across both public and private clouds. Birst gives users the fastest way to answer their most pressing business questions, and, the ones they didn't know to ask. At one-third the cost, time, and staff of traditional big BI, Birst brings the benefits of analytics and fact-based decision-making to a much broader audience. For more information, visit http://www.birst.com.