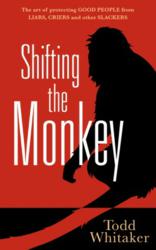 Tactics to cultivate and reward excellence in the workplace
Bloomington, IN (PRWEB) April 19, 2012
Triple Nickel Press, publisher of innovative business books, announces today that leadership expert Todd Whitaker, PhD has released his latest work, Shifting the Monkey. Widely respected for the leadership insight he has shared in over a dozen previous books, Dr. Whitaker's latest work explores new tactics to cultivate and reward excellence in the workplace. In this new release, Dr. Whitaker takes a unique approach to assess ineffective and time consuming employee habits and shifts the burden of those bad habits back where they started, instead of allowing them to derail the best employees and even yourself.
Dr. Whitaker provides readers with a step by step guide to recognizing the "monkeys" in the workplace and ensuring that they are resting on the shoulders of the appropriate person. The book explores the concept of the monkey as responsibilities, obligations, and problems everyone deals with every day. However, when monkeys are shifted from the responsible party to another person, they quickly begin to waste time and resources without ever being noticed. Dr. Whitaker's work examines the effects of shirked responsibility in the workplace.
"It is important for executives and managers to be seen in the workplace as trusted and reliable leaders. Keeping monkeys on the backs of the appropriate employee is an ideal way to build this kind of relationship. In this book I hope to provide these groups with the insights and skills they need to identify and shift the monkey," said Todd Whitaker, PhD.
Dr. Whitaker's work is filled with easy to implement tactics as well as long term strategies for a successful business including tips for delegating, working with difficult employees, and managing employee behavior.
Shifting the Monkey is available for purchase immediately from Triple Nickel Press.
###
About Triple Nickel Press
Triple Nickel Press (TNP) publishes innovative business books with a commitment to inspiring and improving the practices of individuals and organizations. TNP's books cover a wide range of categories, including organizational leadership, business management, entrepreneurship and personal motivation. Many books take a unique view of traditional business topics by capturing the lives of inspiring leaders, marrying nontraditional topics like neuroscience with business management, and encouraging global practices.
To learn more about TNP, visit http://www.triplenickelpress.com.