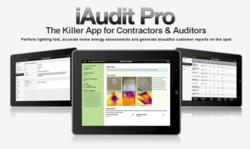 iAudit Pro is a time-saving, accurate, whole-house, state-of-the-art modeling audit tool.
Boulder, CO (PRWEB) April 19, 2012
Snugg Home announces a new partnership with Xcel Energy. iAudit Pro is now the exclusive energy auditing software tool for the utility's Home Energy Audit program. iAudit Pro is the latest energy efficiency software released by Boulder based Snugg Home LLC.
Xcel's Home Energy Audit program begins with a home visit from an energy expert who looks at things like heating and cooling systems, windows, insulation, and appliances to quickly identify energy saving opportunities within the home. The experts use iAudit Pro's software to enter data about the home and to present a comprehensive but easy to understand report to the homeowner. The report includes detailed information about each recommendation to address annual savings, installed costs, rebates and incentives, comfort, health and safety issues,further observations and full color photos with captions.
"We've built iAudit Pro to be so simple, any home improvement or repair contractor can offer a quick energy assessment to their clients while they are in the home for other scheduled tasks," says Snugg Home co-founder Adam Stenftenagel. "The benefit of iAudit Pro's software is that the report is generated on site in a fraction of the time required by traditional modeling tools while maintaining a high degree of accuracy."
Stenftenagel says energy savings from selected home energy upgrades could help offset the cost of a kitchen or bathroom remodel.
Xcel Energy has recently redesigned its home energy audit program to include the use of iAudit Pro. Xcel Energy can now track all of the data collected during the audits automatically and instantly through its administrator interface. This streamlines the audit process and allows Xcel Energy to open the auditing program up to any qualified auditor in the state who wishes to perform energy audits and provide a rebate for their customers.
Xcel Energy is expected to provide rebates for approximately 2,500 energy audits per year in Colorado through the program. Seventy-five contracting companies with over 170 users have already signed up to perform energy audits through Xcel Energy's program, with over 300 audits already performed.
For more information about Xcel Energy's Home Energy Audit program, visit Responsible by Nature
About Snugg Home
Snugg Home, LLC produces a full suite of energy efficiency software which enables program managers, contractors, auditors, real estate professionals, lenders, and third party vendors – reaching government, utilities, private sector, and homeowners.