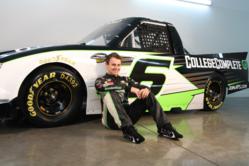 They do so much for us every day, to be able to let them into our world for a while, show them the truck and bring them out to the track, it doesn't feel like enough.
Denver, NC (PRWEB) April 17, 2012
Justin Lofton will head to Kansas early this week, making a stop at nearby Fort Riley in order to visit with ARMY service members on base. The visit will be the third for Lofton in as many years. This season however, will be different, as he brings along his No. 6 College Complete(http://www.collegecomplete.com, 877-543-2655) Chevrolet Silverado and crew.
"I am beyond anxious for this week's visit to Fort Riley. I always enjoy going there and meeting with the soldiers. To have the opportunity to spend time with them and thank them for their service is immeasurable," Lofton said.
"The guys on the team are really excited about it, too. It's going to be a lot of fun. We're taking the truck we are going to race on Saturday. Everyone at Fort Riley can come over, check out the truck, ask the guys any questions they might have about the mechanics of it. That's different, and definitely a step outside the norm of just taking a show truck."
Lofton made his first visit to Fort Riley in 2010, and spent much of his time with the 1st Brigade, 1stInfantry Division. During his return visit in 2011, many of the soldiers he had met the year prior were deployed overseas. As Lofton readies for his 2012 visit, he is looking forward to seeing some of his old friends.
"We stayed in touch with a lot of those guys on Facebook and Twitter," Lofton said. "For a while, you wouldn't hear from some of them. But it was good to see a post every now and then because we knew they were back and okay. Some of the guys I met have moved or retired, but we still stay in touch."
Lofton, crew chief Dan Bormann, and the rest of the College Complete team will be on hand throughout the morning on Thursday at Fort Riley, showing off their race truck, signing autographs, and talking racing with service members and their families. On Saturday, many will make the roughly two-hour drive and attend the SFP 250 at Kansas Speedway.
Representatives from Lofton's sponsors, College Complete and JoinAPS, will also be on hand for Thursday's activities and are looking forward to the visit. College Complete embraces the role of military men and women, and is accustomed to working with them on a day-to-day basis, structuring their needs around their schedules.
"We work with hundreds of students - civilians and veterans - every day that are looking to build a future for themselves and their families," says Jason Shatzkamer, President of College Complete. "For our active and former servicemen and women this decision can become even more complex. College Complete provides guidance to these veterans to ensure they're working with military friendly institutions, and hopefully reduce both the time it takes to complete their degree, and also the cost."
While College Complete is used to assisting in long-term goals, this Thursday, the focus of the team will shift to showcasing appreciation and support for all of the hard work of the service men and woman at Fort Riley.
"They do so much for us every day," Lofton added. "To be able to let them into our world for a while, show them the truck and bring them out to the track, it doesn't feel like enough. But I'll tell you what; I've met some of the biggest race fans by coming here over the last three years. I am really looking forward to this week."
About College Complete
Partnered with hundreds of educational institutions and across all types of education goals, including traditional college degrees, trade and vocational certifications, and professional licensure, College Complete helps students assess all of the information that exists in the public domain, allowing them to understand and make sense of their educational opportunities. Their services are free and available to anyone. Whether you are interested in Art and Design, Business, Computers and Technology, Criminal Justice, Education, Healthcare and Medical, Science and Engineering, and much, much more; if you're an Electrician, a Nurse, an Automotive Mechanic, a Teacher, a Police Officer, or you're simply interested in learning Computer Programming, Networking, Web Development, or Graphic Design College Complete is available for you at no cost. You can reach them by filling out a form on their site or calling to speak with your personal Education Advocate at 877-543-2655. College Complete has an initiative to assist those in the US Armed Forces and their families and is able to assist in identifying schools that will not only provide the educational requirements of the soldier, veteran or family member but will do so in a cost effective manner.