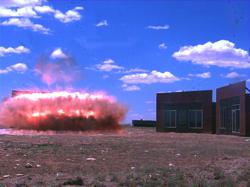 "The results we obtain through these types of tests allow product designers, blast consultants, architects and building owners to have confidence in the ability of their work product to offer the protection that the end user is relying on,"
Lubbock, Texas (PRWEB) April 17, 2012
Architectural Testing, Inc. (ATI) announces the addition of full scale arena blast testing to their suite of threat resistance services. This new offering rounds out ATI's state-of-the-art Security Research Center to include blast testing tailored to client's needs. The facility in Lubbock, Texas allows clients to test custom mock-up sizes, shapes, materials and product types, up to 20' (w) x 26' (h) and larger upon request. Blast pressures can reach up to 40psi, and even higher pressures can be achieved for custom applications. These new blast capabilities mean that ATI can now offer tests in accordance with the following standards: Standard Test Method for Glazing and Glazing Systems Subject to Airblast Loadings or ASTM F1642, The U.S. General Services Administration (GSA) Test Standard or GSA-TSO1-2003, as well as The United Facilities Criteria for DoD Minimum Antiterrorism Standards for Buildings or UFC 4-010-01. The Department of Defense released a new version of the UFC 4-010-01 in February 2012, introducing more variables into the test planning stages of a project. "This is an example of how Architectural Testing's staff can advise our blast clients," says Rich Biscoe, President. "Our experts know the ins and outs of the standards; exactly what is required, and if there has been a change. If other tests are required for code compliance, customers can be confident that we offer them."
As a private, third party testing laboratory, Architectural Testing provides the real world testing that manufacturers need. Through the use of a high speed data acquisition system and a non-contacting laser displacement system, ATI can measure reflective and free-field air blast pressures, anchor forces, and mullion deflections. Blast test clients can also benefit from the use of high speed cameras with recording speeds up to 100,000 frames per second, allowing for a more thorough evaluation of material performance.
The need for accurate testing to validate the blast performance of building products continues to grow as building codes and standards get stricter. Properly designed and tested building products offer greater safety for the end user of the building. "The results we obtain through these types of tests allow product designers, blast consultants, architects and building owners to have confidence in the ability of their work product to offer the protection that the end user is relying on," says Vinu Abraham, Vice President, Southeast Region. "Architectural Testing will continue to develop and utilize new testing technologies, always staying on the cutting edge for our clients."
Founded in 1975, Architectural Testing, Inc. (ATI) is a leading product testing service provider in North America, with ISO/IEC 17025 accreditation and capability to perform more than 2000 defined test protocols at one or more of its thirteen full-service laboratories. Testing is available for building products and systems of all types, in the form of individual units and full-scale mock-ups, roofing materials and systems, concrete and masonry, insulation and construction materials, sealants, adhesives, and many others. Architectural Testing offers certification services including a building material listing program, with a staff of professional engineers licensed in twenty states. They also offer consulting services including building envelope commissioning and forensics, and maintain qualified field testing crews that travel all over the continent to perform air/water testing on existing buildings and new construction. Architectural Testing has the ability to serve as a complete solution for their clients. For more information, visit http://www.archtest.com.