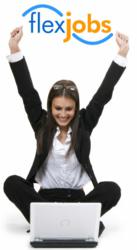 Boulder, CO (PRWEB) April 19, 2012
In honor of Earth Day, FlexJobs, the green-certified, award-winning job site for telecommuting and jobs with flexibility, will donate one tree for every FlexJobs subscription purchased on April 19, 20, 21 and 22 to The Nature Conservancy's Plant a Billion project. In addition, to encourage job seekers to consider green job options, FlexJobs is offering up to 67% off its regular subscription price (use promo code "EARTH").
"Telecommuting and flexible work schedules reduce commuter congestion, save on gas and help to reduce the release of greenhouse gases. The more job seekers we can encourage to seek out environmentally-responsible jobs, the better," Sara Sutton Fell, CEO of FlexJobs stated. "Additionally, whenever gas prices increase, as they have recently, telecommuting and flexible work become an even more desirable work benefit for job-seekers."
FlexJobs is changing the employment landscape by bringing legitimate flexible jobs -- and the work-life, economic, and environmental benefits they offer -- to the people who want them in a safe and easy way. With job listings in over 50 career categories – including an Environmental & Green Jobs category – and with job types ranging from entry-level to executive, freelance to full-time, there are many more job opportunities with telecommuting and flexibility than most people imagine.
And FlexJobs' dedication to the environment goes further; FlexJobs was recently awarded the highest-possible Platinum Status certification by the Green Business Bureau as a result of its Corporate Environmental Sustainability Vision.
"FlexJobs is proud to be a green-certified carbon balanced company," Fell said. "Each of our employees makes a commitment to implement sustainable working habits and we hope to draw awareness to the green benefits of working flexibly, especially during Earth Day, to help encourage others to do the same."
To learn more tips on how to make your job and job search more environmentally friendly, read Sutton Fell's recent article on 10 Ways to Green Your Workday or visit http://www.flexjobs.com. The special Earth Day Savings of up to 67% off will be offered on April 20, 21, and 22 (use promo code "EARTH").
For media inquiries, please contact Chelsea Gladden, Chelsea(at)flexjobs(dot)com or 1-866-991-9222 x 4.
About FlexJobs
FlexJobs is the leading online service for hand-screened and professional flexible, part-time, telecommuting, and freelance job listings. FlexJobs gives job seekers an ad-free way to find legitimate jobs quickly, easily, and safely. FlexJobs skilled research team provides quality job leads in over 50 career categories, ranging from entry-level to executive, freelance to full-time. FlexJobs is a green, carbon-balanced company which is leading the way to the future of work by promoting telecommuting and flexible jobs that allow people to enjoy work and life in environmentally sustainable ways.
To find out more about FlexJobs, visit http://www.FlexJobs.com.