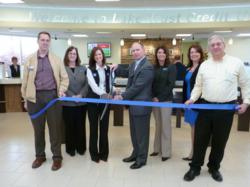 Our new branch brings a more significant presence in this community and is a much more accessible for our members. We really hope everyone will enjoy this new location. - Melisa Miller, Branch Manager
Grand Haven, MI (PRWEB) April 19, 2012
Lake Trust Credit Union celebrated the opening of its new branch, located on the busy corner of US-31 and Robbins Rd. in Grand Haven with a ribbon-cutting ceremony on Monday afternoon. Present at the event were Lake Trust CEO David Snodgrass, Regional Branch Manager Lori Trainor, Vice President of Retail Delivery, Sheila Collins, Grand Haven Chamber of Commerce member, Pam Blake and representatives from the Ottawa County School Employees and Grand Haven Coast Guard Festival, as well as many other members of the community.
Branch Manager Melisa Miller was particularly excited about the new location and appreciates the support and dedication to the Grand Haven community. "I'm proud of all of our accomplishments here and overjoyed at how far we've come on this branch since the start of our plan to relocate, in 2009," said Miller. "This location took a lot of collaboration from members of the city and Lake Trust staff. I want to thank all of those who made this possible." She also shared her appreciation for the increased convenience…Miller continued, "Our new branch brings a more significant presence in this community and is a much more accessible for our members. We really hope everyone will enjoy this new location."
During the grand opening celebration, members and Lake Trust staff from around the state toured the new facility, which includes a community room, Internet Banking station, kids area, coffee counter, and coin machine, all housed in a building that was made to reflect the warm, friendly feeling of the beach community.
"It's a building we're really proud of," said Danielle Brehmer, Vice President of Marketing. "The Community Wall for example, was built to reflect the people who live and work here, and it's one of the features that's just so welcoming. Grand Have is such a great community; we knew the building had to be just as great."
The Credit Union plans to carry out the celebration of its new branch throughout the remainder of the week, and invites all to stop by for refreshments and to check out its new location.
Visit The CU Scoop to learn more about Lake Trust's community involvement and projects.
Lake Trust Credit Union, as Michigan's fourth largest credit union and headquartered in Lansing, stretches from Lake Michigan to Lake Huron and Lake Erie. With over $1.5 billion in assets and 21 branches strong, Lake Trust provides its almost 156,000 members best-in-class products and offers individualized, trust-based member service. Membership is open to anyone within its 35-county service area. Learn more about Lake Trust Credit Union at laketrust.org.
Follow Lake Trust Credit Union on Twitter at http://twitter.com/lake_trustcu