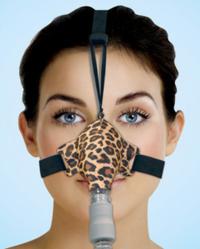 Houston, Texas (PRWEB) April 18, 2012
The SleepWeaver Advanced Nasal CPAP Mask by Ciradiance inflates like a balloon, softly conforming to the user's face and creating an intimate seal. Along with the improvements designed into the Zzzephyr Seal, the SleepWeaver Advance provides a unique fit designed for comfort and restorative sleep.
Mask improvements include:
1. The new & improved Zzzephyr Seal contour fits and seals even better.
2. The completely redesigned headgear softly secures a better mask seal.
3. Fewer exhalation holes make it even quieter.
4. Combine it with the NEW SleepWeaver Feather Weight Tube and complete your comfort package.
The SleepWeaver Cloth Nasal CPAP Mask is made for the discriminating CPAP user. SleepWeaver users can wear glasses and read or watch television while wearing the mask, it is easy to clean either by hand or in the washing machine, allows you to sleep on either side while snuggling with your pillow and leaves no more red marks on the face because all that touches you is cloth.
With the SleepWeaver the user can demonstrate their individuality as the mask is available in 3 colors; blue, pink and beige and 2 designs; camouflage and leopard. The SleepWeaver retails for $170.00 however is currently on sale at Sleep Restfully, Inc. for the low price of $99.00. Shipping is free within the continental United States.
Sleep Restfully, Inc. prides itself on the high quality customer service it provides to Sleep Therapy and Oxygen customers. Their slogan, "We may not be able to match everyone's price but no one can match our service" is exemplified by their Better Business rating of "A". They carry a complete line of sleep therapy equipment and supplies by ResMed, Philips Respironics, Fisher & Paykel and other manufacturers. In addition to CPAP machines and CPAP supplies, Sleep Restfully is your portable oxygen concentrator specialist offering the best prices and support for portable oxygen concentrators such as the Respironics SimplyGo, Respironics EverGo, Sequal Eclipse 3, Inogen G2, Invacare XPO2 and more. They also sell stationary oxygen concentrators such as the Philips Respironics EverFlo and Invacare Perfecto.
In addition, Sleep Restfully stocks all replacement parts for the CPAP machines and CPAP mask as well as replacement parts for all portable oxygen concentrators.
Sleep Restfully, Inc. can be contacted toll free at (866) 923-2727, or by visiting their website sleeprestfully.com.