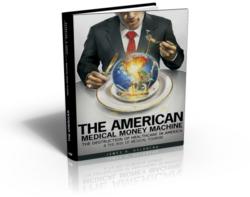 The Exportation of American Patients to Foreign Countries for Unregulated Medical Care Has Now Gone Mainstream!
New York, NY (PRWEB) April 24, 2012
The author of The American Medical Money Machine,The Destruction of Healthcare in America and the Rise of Medical Tourism, James Goldberg, has issued a new website, http://www.theamericanmedicalmoneymachine.com, that describes "how plans have been laid by the American insurance and hospital industries, to export American insured patients for less expensive foreign care.
These plans have been underway for nearly 30 years. Both Medicare and private health insurers will pay US Joint Commission accredited hospitals. The consequences have devastating implications."
Author Goldberg is a political activist in the field of healthcare.
His original inspiration to dig deeply into the field of Medical Tourism began in 2006 began with the suspicious circumstances surrounding the untimely death of his only child at Bumrungrad International Hospital in Bangkok, Thailand. Bumrungrad is the epicenter for Medical Tourism.
Since then Goldberg has consulted with the Senate Finance Committee which oversees Medicare, chaired by Senators Grassley and Baccus.
The book, which explores what Goldberg refers to as, "the nefarious circumstances of his son's death, goes way beyond to expose a concerted effort of the US healthcare industry to dominate healthcare on a global basis."
Goldberg said, "the plans for this have been underway for the last 30 years in which the Joint Commission, of Oakbrook, Illinois have been selling a high status accreditation with a US look alike logo to foreign hospitals which appear to suggest that these foreign accredited hospitals are endorsed by the US Government: they are not."
Goldberg went on to say that "the impact that the institutionally supported movement, some have packaged as Medical Tourism will have a major impact on Doctors, Nurses and, most importantly, patients.
"As US baby boomers hit older age, medical problems and access to care will become a major issue as our resources shrink as the demand for care increases", said author Goldberg.
"By outsourcing healthcare to far cheaper locations the US medical industry stands to make a bonanza at the expense of patients and their safety", Goldberg also said.
As insurance companies add foreign hospitals to their networks, the medical insurance industry will continue to increase their premiums, place more financial burden on patients and continue the trend to lower reimbursement to doctors: the result being that doctors are leaving medicine and the quality of care in the US will continue to drop while patients pay higher deductibles and co-pays. The money to be made by shipping patients overseas is staggering."
Further Goldberg said, " that fewer people are choosing to go into medicine as major corporate interests have taken over near total control of medical services: they have done so in collusion and with the support of the US Government as Medicare and Medicaid become disemboweled."
Goldberg intends, he said, has written a book which "takes square aim at the degradation of American Medicine and its domination by corporate cartels."
The American Medical Money Machine: The Destruction of Healthcare in America and The Rise of Medical Tourism is available through Amazon in Paperback and Kindle.
Additional Press Releases addressing the impact on Human Resources, Doctors, Travel Agents, Patient Safety Groups, Nurses, Trial Lawyers, The Pharmaceutical Industry, Foreign Doctors and Medical Systems are planned in the coming months.
These and many other topics which take serious issue with Medical Tourism are examined in great detail in The American Medical Money Machine.
Goldberg said that "the consequences of corporate medicine have broad impact and hidden implications on a world wide basis. The invasion of big business in medicine is now going global!"
Goldberg ended his comments by saying that his 450 page non fiction book "details information little known to the vast majority of Americans and exposes the dangers of how travel agents, medical insurance companies and hospital corporations have entered the nefarious world of Medical Tourism."