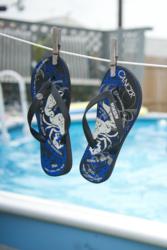 Musewear isn't for everybody. With their witty words, they're a real thinking-person's flip flop.
(PRWEB) April 20, 2012
It's that time of year when people spend more time out of their shoes than in them. This spring and summer's newest choice is Musewear Flip Flops, the brand whose tagline encourages you to "wear your self out" with cushy footwear featuring inspiring quotes or whimsical zodiac attributes accompanied by vivid, trendy artwork.
"There are tons of flip flops out there, and many are bedecked and bejewelled but say nothing about you or how you're feeling," says company founder Diane Curry. "We decided to create something that stands out in the crowd and connects people to each other and the world around them. And we're very excited that this is our first full spring and summer season in which we're bringing these 'smart' flip flops to the public."
For Musewear, inspiration comes from all walks of life: Dancer Eleanor Powell, the Dalai Lama, and Ella Fitzgerald all have something to say on the colorful flip flops. Oscar Wilde makes an appearance with: "Be Yourself, Everyone Else is Already Taken." And Gandhi's wisdom is captured with: "Live as if You Were to Die Tomorrow, Learn as if You Were To Live Forever."
WHAT'S YOUR SIGN?
Musewear's zodiac-themed flip flops feature unique renderings of the astrological signs by American Artist Zack Stella along with seven descriptives for each sign. Wearers will surely recognize Luxuriously Lazy Leos, Wildly Imaginative Cancers or Restless Geminis. Each flip flop also holds a "dirty little secret" and "find & flee" compatibility listing for every sign.
Musewear flip flops are made in Brazil from super-soft, high quality rubber just like the much-loved brand Havaianas—with an important difference. According to company co-founder Michael Franco, "Unlike megabrands sold everywhere from the pharmacy to the local discount store, Musewear isn't for everybody. With their witty words, they're a real thinking-person's flip flop. They're sure to get noticed—rather than just blending in—when you kick them off on the beach, in the backyard or by the pool. This makes them great conversation starters and this is the first spring/summer season they're available!"
SO NEW, BOUND TO BE AN ORIGINAL THIS SUMMER
If you're having friends or family over for a barbecue, beach weekend or a summer wedding, Musewear Flip Flops make a perfect party starter or parting gift. They're unisex, affordable, and entertaining–and they're an appealing alternative to the ubiquitous T-shirt or baseball cap. And because Musewear is a start-up on the upscale footwear scene, chances are no one owns a pair yet!
In keeping with their "smart" approach to doing business, Musewear donates 15% of their profits to charitable causes that help the planet and its people. They also work with an ethical factory in Brazil that recycles leftover material from the manufacturing process into new flip flops. Plus, they encourage their users to recycle used flip flops through Uniqueco.
"We call Musewear the 'smart' choice for summer because not only do you get to show off a quote that says something about your worldview, but also because your purchase helps support worthwhile charities," says Curry. "Plus they're super-soft—and really, what's smarter than fun and comfy summer footwear?"
Musewear flip flops are available exclusively online at the company's website.