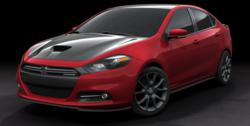 This new addition to the Dodge compact family boasts beauty inside and out and is perfect for those looking for a reasonable price.
Scottsdale, Arizona (PRWEB) April 19, 2012
The rumors are true - Dodge will release the brand new Dodge Dart and it will be available at Scottsdale Dodge soon. This new addition to the compact family boasts beauty inside and out and is perfect for those looking for a reasonable price.
Under the hood the Dodge Dart has three engine options including a 2.0-liter naturally aspirated 4-cylinder 160-horsepower, a 1.4-liter turbocharged intercooled 4-cylinder 160-horsepower, and a 2.4-liter 4-cylinder, 184-horsepower which utilizes the MultiAir 2 system that offers exhaust-gas recirculation that is more efficient. There are three transmission options as well. The standard option is a 6-speed manual design by Fiat Powertrain. There is also a 6-speed dual-clutch automatic version available for the 1.4-liter turbo and finally there is a regular style 6-speed automatic option for all three engines.
Outside the Dodge Dart has pursued nothing but aerodynamic excellence, including a grille system that opens and closes automatically based off of the vehicles speed and engine-coolant temperature. There are composite panels that smooth out airflow and reduce road noise. The top of the Dart features a laser-brazed roof seam which eliminates roof-ditch moldings and results in a much cleaner look and reduces interior resonance. The Dart is available in twelve exterior colors, some of which include "Header Orange" and "Laguna Blue". All of this comes at the sensible starting price of $15,995; it fits into almost any buyer's budget.
"At Chapman Scottsdale Dodge we really take pride in providing vehicles that offer a lot of great features both inside and out and come at a reasonable price. The new Dodge Dart fits perfectly into that category," says General Manager Rolland Schreiber.
A look at the interior of the Dodge Dart would leave anyone impressed. Not only do you have 14 interior and trim options but it also comes complete with ambient interior lighting. It also includes an 8.4-inch UConnect Touch Media Center with voice recognition, an Alpine audio system, a full-color seven-inch TFT instrument cluster, keyless entry and start, and a heated steering wheel. There are four-wheel anti-lock disc brakes and ten airbags that come standard, as do the electronic stability control and electronic roll mitigation.
This car is definitely worth checking out! So come to Chapman Dodge Chrysler Jeep, the best selling Dodge dealers in Phoenix.