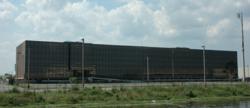 New Orleans, LA (PRWEB) April 19, 2012
This office building is approximately 210,000 sf on a 10.71 +/- acre site. It has 567 + spaces of covered garage and open parking. Special features include: Fire command center, access flooring over portions of the premises, diesel generators for back-up power, 8,000 gallon and 12,000 gallon diesel tanks (underground), vending/cafeteria area and loading dock.
For more information and bid package visit http://www.gilmoreauction.com or call Sperry Van Ness/Gilmore Auction at 504-468-6800 or toll free 800-254-1280. Bidders must submit to Gilmore Auction a completed and signed Purchase Agreement and Terms and Conditions, which can be obtained from Gilmore website, along with 10% deposit of bid in the form of a Cashier's check prior to 4:00pm, May 15, 2012.
"This is a fantastic opportunity to acquire this property at a fraction of the replacement cost," states Dave Gilmore, Managing Partner of Sperry Van Ness/Gilmore Auction.