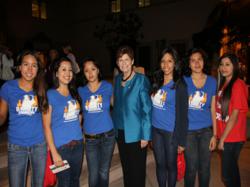 'Reality Changers is absolutely a model - not for the city, not for the state, but for the country.' - U.S. Secretary of Education, Arne Duncan
San Diego, CA (PRWEB) April 17, 2012
Reality Changers inner city youth will meet with San Diego Mayoral Candidate District Attorney Bonnie Dumanis tonight at 7pm at their City Heights headquarters, 3910 University Ave, Suite 300, San Diego, CA 92105.
"Having the opportunity to meet candidates vying for San Diego's highest position is important. Students need to have their voices heard and know that they can make a difference in their community. We have met with candidates California Assembly Member Nathan Fletcher, San Diego Councilmember Carl DeMaio and U.S. Congressman Bob Filner. They all have stated that education is an important issue for our city. A discussion with our students who will be directly impacted by their future decisions and plans for our inner city youth needs to occur to create the change we are seeking," states Christopher Yanov, Founder and President, Reality Changers.
Reality Changers' mission is to provide inner-city youth from disadvantaged backgrounds with the resources to become first generation college students by supplying academic support, financial assistance, and leadership training.
To learn more about Reality Changers, visit their website at http://www.realitychangers.org or contact Marshela Salgado, Vice-President of Communications via phone at (619)516-2222.