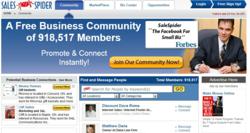 (PRWEB) April 18, 2012
Do you wonder how or if your business listing shows up in various directories on the internet? The SaleSpider business directory now automatically allows businesses to know exactly where their listing can be seen.
When a business listing is added or edited on SaleSpider, a scorecard will be provided immediately. This scorecard shows exactly where a business name is seen on specific business directories online such as Yahoo, Yelp and Whitepages. If the scorecard shows poor results, users are able to fix their local search listings in minutes.
The business directory on SaleSpider.com is home to over 12 million businesses and is growing by thousands every week.
Visitors viewing the SaleSpider business directory can search by keyword and location or browse by business type and area. Plus, members can also click on local business directory page that immediately shows them businesses within a 25 mile radius of their location.
About Sales Spider:
SaleSpider Media is a leading digital media company. We own multiple properties that offer online advertising solutions to both b2b and b2c advertisers and direct marketers. Clients range from small to medium businesses to Fortune 1000 companies and their media agencies.
SaleSpider Media's publications and media brands include:

SaleSpider.com - Over 900,000 Small & Medium Business Owners & Executives.
AdShare Display Network - B2B & B2C Performance Display Targeting
AdShare Email Marketing Services - Over 10 million B2B & B2C Opt-Ins.
SaleSpider Media's primary property is SaleSpider.com, the largest Small Business Social Network in the US. We are the Facebook for entrepreneurs and small business owners. We are established in media agencies and are overwhelmed with opportunities.
To Learn More about SaleSpider Media, please see http://www.salespidermedia.com and http://www.salespider.com