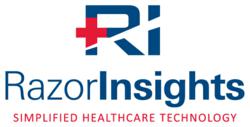 Kennesaw, Georgia (PRWEB) April 18, 2012
RazorInsights, a leader in information technology solutions for rural, critical-access and community hospitals, has partnered with Fogo Data Centers for hosting, colocation and dynamic cloud computing capabilities. "This partnership provides a platform which drastically increases capacity and adds capabilities on the fly without forcing our cash-strapped hospitals to invest in all new infrastructure and hire additional IT personnel," said Michael McKenzie, COO for RazorInsights. "We are extremely pleased with this partnership. Fogo is providing us with the same high level of customer service that we give our hospital clients."
Fogo Data Centers CEO Brooks Snow said, "RazorInsights realized they could call and reach us — talk to us. We're not just a bunch of inaccessible geeks in the cloud. We're people oriented."
RazorInsights' ONC-ATCB compliant ONE-Electronic Health Record, as well as its other enterprise suite solutions, encompasses subscription-based or pay-per-use services that, in real time, deliver its application through a browser to its customers using a multitenant architecture. In addition to alleviating its clients the burden of purchasing and maintaining servers, there is no software license to purchase. The system is scalable and upgrades are seamless. Hospitals simply maintain a low, all-inclusive monthly subscription.
A central focus of the RazorInsights/Fogo agreement was security and HIPPA compliance. When dealing with confidential medical records, cloud providers must ensure that their infrastructure is secure and that their clients' data and applications are protected. RazorInsights' clients can rest assured that its cloud-based solutions are fully compliant with the security and privacy rules of the Health Insurance Portability and Accountability Act (HIPPA). To learn more about the rules pertaining to HIPPA compliance, visit hhs.gov/ocr/privacy.
About Fogo Data Centers:
Founded in 2009, Fogo Data Centers own and operate regional retail data centers that provide business-centric services to support business IT needs. Fogo specializes in dedicated private servers, virtualized servers, colocation, offsite business backup, and an innovative hybrid approach to traditional colocation and managed hosting. To learn more, please visit http://www.fogodatacenters.com or contact Josh Rhine at jrhine(at)fogotdatacenters(dot)com or 678-340-3646.
About RazorInsights:
Based in Kennesaw, Georgia (in the metro Atlanta area), RazorInsights is a new, dynamic healthcare information technology company. In keeping with the principle of Occams Razor, they have created a simplified, enterprise HIS solution for Rural and Critical Access hospitals. Introducing ONE (ONC-ATCB 2011/2012) -- a single-database, cloud-solution offering a simple user experience with cutting-edge clinical tools and industry-standardized data. Hospitals can expect to improve their performance and bottom line with ONE from RazorInsights. To register for a live product demo or for more information, visit razorinsights.com or call 770-308-4111.