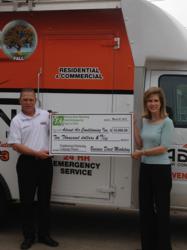 "I'm excited to find out what $10,000 worth of Neighborhood Marketing can do for our business." Dan Leising, Advent Air Sales Manager
Tyler, Texas (PRWEB) April 18, 2012
Business Direct Marketing announced Advent Air as the winner of their $10,000 Neighborhood Marketing Contest. The giveaway was sponsored by Business Direct Marketing in conjunction with the unveiling of the BDM Toolbox, a website that provides communication tools for the HVAC industry. As the winner, Lewisville, Texas-based Advent Air will receive a radius direct mailing complete with Quick Response (QR) codes that link to a landing page with Advent Air's contact information as well as yard signs and door hangers.
Advent Air Sales Manager Dan Leising said they became eligible for the drawing by attending a webinar hosted by Business Direct Marketing that gave interested dealers a preview of the tools on the site. "We tuned in to the webinar to learn about any new tools BDM might have to offer, and ended up winning the grand prize," Leising said. "I'm excited to find out what $10,000 worth of Neighborhood Marketing can do for our business."
"We are thrilled to celebrate the launch of the BDM Toolbox by giving away one of our most popular and effective programs," said Lisa Jones, BDM President.
In addition to Neighborhood Marketing programs, the BDM Toolbox also features cross media marketing campaigns, newsletters, trade show materials and other marketing tools specifically tailored to HVAC professionals. Innovative marketing tools and knowledgeable customer service professionals ensure that dealers create a marketing program that will help their business grow.
About Business Direct Marketing
Business Direct Marketing (BDM) is a full-service marketing firm with more than 20 years of experience assisting HVAC dealers become the "dealer of choice" in their communities. Our comprehensive, proven programs yield maximum results for your marketing investment. As market trends and technology make quantum leaps ahead, our clients stay in the loop with new, cutting-edge tools that build a bridge between business and consumers. At BDM, client service, client satisfaction and client success are our primary goals. For more information, visit http://www.businessdirect.com.
###