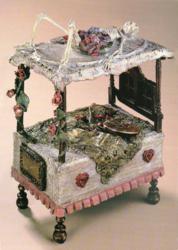 Poller's beds create a biography of modern humanity and its intimate relationship to this icon
New York, NY (PRWEB) April 18, 2012
Miami's hot Wynwood gallery district, home to Paris' Lelia Mordoch Gallery will open Leah Poller's exhibition "In & Out of Bed" on June 9th from 4:30 to 9:30 pm, as part of the monthly Wynwood gallery walk.
The critical success of Poller's of work can be attributed in part to the public's fascination with the bed as a metaphor for life's twists and turns. "A third of our life is spent laughing, loving, dreaming and sleeping in the BED!" Poller states, "And that is why the bed is something that every man, woman and child can relate to."
The personification of the bed, executed with a high degree of detail, mastery of medium and execution of concept takes the bed into a new realm of contemplation. Renowned surrealist author and humanist Kurt Vonnegut, on seeing the 101 Bed Collection, said, "Poller's beds blow my mind!"
Using found objects and visual metaphors, Poller's sculptures of the bed have been likened to large jewels of the imagination, inspired by an endless vocabulary of personal and collective experience, and punctuated with emotion and truth about the human condition.
"This is a show that will pull you out of your sleep!!!" announces Lelia Mordoch with conviction.
Poller invites you to romp in "Bedtime – an homage to Dali", sway in "Cat's Cradle", nibble nocturnally in "Bedtime Snack", and explore the erotic in "Flagrant Delit"… 101 sculptures where humor, sex, politics, history, sleep and dreams meet under Poller's bronze gaze; and now under the Lelia Mordoch Gallery's curatorial vision.
Poller says, "As an ex-Miamian I'm thrilled to return to my old haunt and share the richness of my years in Paris and New York with this exciting, trendsetting art community in Miami."
"Whimsical, spiritual, political, together with a site -specific installation of a "A Cactus Bed" in the middle of the gallery, Poller's beds create a biography of modern humanity and its intimate relationship to this icon," concludes Lelia Mordoch.
For further information:
LELIA MORDOCH GALLERY:
E: lelia(dot)mordoch(dot)gallery(at)gmail(dot)com or (786) 431-1506
Web: http://leliamordochgalerie.com/
Address: 2300 N Miami Avenue, Miami, FL, 33127
LEAH POLLER:
e: artallny(at)aol(dot)com or 212 274 1704
Youtube: http://www.youtube.com/watch?v=5x_L1VkuK4Y
Web: http://www.leahpoller.com
Web: http://www.unmadebedproject.com
About Leah Poller: http://www.leahpoller.com
Leah Poller was born in Pennsylvania. She received classical training in sculpture at the prestigious Ecole Nationale Superieure de Beaux Arts, in Paris, France. Partaking of a rich, multi-cultural environment, Poller interacted with foremost members of the international arts communities of France, Spain, Italy and Latin America. Returning to the United States in 1992, she established her studio in Soho and began the series of "101 Beds" which has been exhibited in galleries and institutions in Europe, Mexico, and throughout the United States. In 2009 Poller moved to Sugar Hill, Harlem. She has recently concluded a 12-year project - The 101 Bed Collection and is working on several portrait commissions. She has been featured on CNN, Fox Television and in numerous art publications. She has lectured extensively and held workshops on creativity. She was named Director of "Intercambios de Arte y Cultural Internacionale", a not-for profit furthering cultural exchanges between the Americas and spearheading the restoration of a major twentieth century mural, recently discovered to be the work of Philip Guston.
About the Lelia Mordoch Gallery: http://www.galerieleliamordoch.com
The Lelia Mordoch Gallery first opened in Paris in 1992. In 2009 after several years of active presence in the South Florida international fairs, the Gallery opened in Miami's Wynwood Arts District. Since its opening, the Wynwood space has brought to South Florida a high standard of art, presented with professionalism and a depth of curatorial perspective.