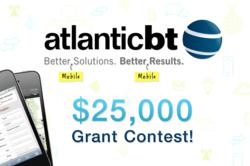 2012 is a breakout year for mobile," says Jon Jordan, Atlantic BT's CEO.
Raleigh, NC (PRWEB) April 18, 2012
Atlantic BT, one of the Southeast's leading full-service web development firms, is announcing their "Gives Back" Grant Contest, giving away $25,000 of mobile software and marketing services to one worthy nonprofit.
"With a full 50% of US adults now toting a smartphone to access the mobile web and download apps for everything from banking and social networking to music streaming, it's fair to say that 2012 is a breakout year for mobile," says Jon Jordan, Atlantic BT's CEO.
A few possible uses for Atlantic BT's $25,000 mobile grant might be to launch a mobile fundraising app, provide educational resources via mobile websites, advocate for legislation through a mobile advocacy campaign or manage volunteer programs. The winning nonprofit will submit a promising idea to use mobile technology to enhance its mission or improve its organizational efficiency.
All contest entrants will be offered expert knowledge from Atlantic BT's mobile team to help nonprofit managers understand how mobile channels can be used to further their missions.
The Atlantic BT "Gives Back" Grant Contest is open to any registered 501(c)(3) nonprofit. Contest entry period runs through mid-May. A live summer event will determine the grand prize winner.
Tonia Zampieri, Atlantic BT's Mobile Strategist, will be spearheading the project. Prior to her work at Atlantic BT, Tonia conceptualized and launched one of the first nonprofit-specific iPhone apps, Tap-n-Give. A nonprofit veteran, Tonia has helped many nonprofits develop effective, results-oriented mobile technology and strategy campaigns.
Since 1998, Atlantic BT has been widely recognized for its web design and software development talent, offering end-to-end solutions to varied industries and sectors both large and small. The firm has recently added extensive mobile expertise to its mix of services, including mobile strategy, mobile app development, mobile websites, and mobile marketing.
For more information about Atlantic BT, visit http://www.atlanticbt.com.