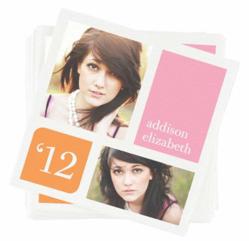 The graduation napkins are a fun way to add personality to a graduation party.
Mankato, MN (PRWEB) April 19, 2012
Pear Tree Greetings is proud to offer the Class of 2012 two new, truly unique ways to share and celebrate their accomplishments. Graduates can now showcase their individuality with a one-of-a-kind graduation announcement booklet, and add personality to their celebration with personalized graduation napkins.
The graduation announcement booklet unfolds to reveal four photos and two large text areas, which allow grads to share their story in a memorable, eight-page format. The booklet can also be personalized with the colors of their choice. It is an exciting new addition to Pear Tree's collection of personalized graduation invitations and announcements.
"Graduating is a once-in-a-lifetime event and as a parent, you're absolutely bursting with pride at this accomplishment," said Stephanie Bottner, General Manager at Pear Tree Greetings. "This fun and unique booklet highlights the importance of the journey your child has taken in a storybook format."
Pear Tree is also introducing a new line of printed graduation napkins, which can be personalized with photos, text and colors of your choice. "The graduation napkins are a fun way to add personality to a graduation party," said Bottner. "We have napkin styles that match our invitations, so you can make it a party to remember!"
"Pear Tree works hard to be able to offer unique designs, at affordable prices," said Bottner. "For our savvy shoppers, we have a tiered graduation sale going on now through May 31st. Save $10 on a $60 order, $15 on an $80 order, and up to $20 on a $100 order. This is an opportunity for parents who are looking for ways to stretch their budgets, but who still want to do something special for their grad."
About Pear Tree Greetings
Pear Tree Greetings celebrates life's sharable moments with its unique collection of personalized, high-quality greetings and stationery made with 100-pound matte-finish card stock. With hundreds of designs for every occasion, available for purchase online for any budget, Pear Tree inspires people to stay connected with friends and loved ones.